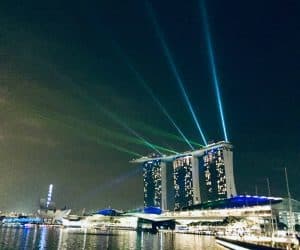 It's now possible to open a new bank account or apply for a credit card or loan with just a few taps on our smartphones. Many people now have access to modern financial services, such as instantly transferring funds, from the comfort of their home or office. They don't have to visit a physical branch location to take care of their banking needs, because most tasks can be completed online.
Digital banks or applications to launch a virtual banking platform have become increasingly common across Asia. Singapore is reportedly awarding two full digital bank licenses and three digital wholesale bank licenses. There had been 21 virtual bank applications that were submitted to the nation's regulators, but only 14 have met the minimum eligibility requirements.
Some of the applications that have met basic requirements for a license include Ant Group, Grab, Sea Ltd,  Singtel, Temasek's Heliconia Capital Management, and Razer.
Singapore might be an ideal location to offer digital banking services because only 2% of the city-state's nearly 6 million residents are unbanked. This means that most people living in the country would be prepared to begin using all-digital platforms and services, because they would have access to the internet through their smartphones or computers.
However, there are still four in ten Singapore residents (or 40%) who are underbanked, which means they're not as well-served as consumers living in other developed nations. It's possible for digital banks establishing operations in the country to branch out into other Southeast Asian markets, because 70% of adults (appr. 296 million residents) are underbanked.
Singapore's three major traditional banks, including DBS, UOB, and OCBC, may not yet be concerned about competing for market share with some of the newer digital challengers.
The three incumbents have been moving forward with their own digital transformation strategies. They've continued to announce updates during these challenging times, when many physical business locations have shut down due to the COVID-19 outbreak.
As reported in March 2020, Singapore-headquartered DBS Bank, a multinational banking and financial services corporation with over $330 billion in total assets, had facilitated a trade financing settlement through vCargo Cloud's CamelONE trade finance portal (TFP).
Earlier this month, DBS Bank partnered with the Government Technology Agency of Singapore (GovTech) to test out the SingPass face verification technology system.
Digital banking services may now be easily accessed in Singapore via OCBC's SingPass which doesn't require remembering or entering access codes. As covered in June 2020, ByteDance, developer of TikTok, may compete for a digital banking license to be issued by the Monetary Authority of Singapore.
As reported recently, Copenhagen Fintech, a Denmark based organization supporting financial technology, is teaming up with the United Nations Development Program (UNDP) and several other organizations in order to help Nordic Fintechs with launching operations in Singapore.