Credit Suisse Plans New "CSX" Digital Banking Offering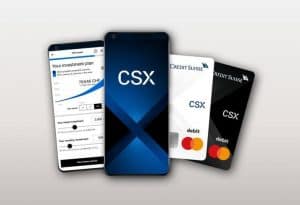 Switzerland's Credit Suisse, a global wealth manager, has revealed that it will be introducing an app-only banking service, in order to compete with challenger banks.
At the end of October 2020, Credit Suisse will launch "CSX" and "CSX Young" to enable clients to conduct all of their banking business by smartphone. CSX is said to combine the expertise and experience of Credit Suisse with the user-friendliness of a digital-only bank.
It will include a private account in CHF, a Debit Mastercard for online use that waives foreign transaction fees, and an app with various self-service functions. A physical payment card will also be provided, but a monthly fee will be charged for it.
There will be the ability to take out mortgage loans and an all-digital wealth management platform.
Credit Suisse had recently confirmed that it would be shutting down many of its physical branch locations. The wealth manager appears to be responding to changing consumer preferences due mainly to the COVID-19 outbreak, which many industry participants claim has accelerated the shift towards all-digital services. An increasing number of customers, globally, are conducting digital transactions via online banking portals.
The actual launch date of Credit Suisse's online banking app will come with its planned upgrade of its remaining physical offices. The wealth management service provider aims to establish "future-oriented" bank branches which will focus on providing complex advisory services.  The bank will offer one-to-one sessions with financial professionals through video conferencing and event zones in order to potentially sign up startups for its services.
Credit Suisse CEO Thomas Gottstein recently said that Switzerland's state-backed financial institutions should no longer receive special privileges. He recommended that state-backed banks should pay the same taxes that private Swiss banks are required to pay.
Gottstein stated:
"I consider cantonal banks with implicit or explicit state guarantees and tax privileges a major market distortion in the Swiss private sector.".
Cantonal banks are retail banking institutions in which local governments may hold considerable stakes and also be able to exercise shareholder voting rights.
Gottstein claims:
"A normal bank pays on average about 20% taxes and pays out 50% of profits to its shareholders. I do not see any reason why cantonal banks should not do the same."
Credit Suisse has reportedly approved about 3.3 billion Swiss francs (appr. $3.6 billion) for COVID-related emergency lending, Gottstein revealed. He also noted that the company intends to pay out the second dividend tranche for last year (at some later point this year).
He also claims that certain family offices and wealthy private customers have been moving to Switzerland, because they're worried that other European nations might increase taxes including on wealth and inheritance, in order to cope with the Coronavirus crisis.
He argued:
"This is a chance for our financial market and the private banking."
He also confirmed that Credit Suisse does not intend to try to re-enter the US wealth management sector, however, the lender might consider it in the forseeable future.

Earlier this month, Credit Suisse was facing enforcement proceeding which were reportedly related to a spying scandal.

As reported by the WSJ, Switzerland's financial regulator confirmed that it had initiated enforcement proceedings against Credit Suisse Group AG over its alleged physical surveillance of two senior management professionals during 2019.

The Swiss Financial Market Supervisory Authority (Finma) stated that it plans to investigate these alleged violations of supervisory law, as they relate to the company's surveillance and security procedures, "and in particular the question of how these activities were documented and controlled."

Sponsored Links by DQ Promote