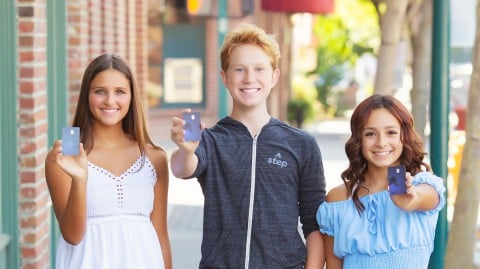 Step, a U.S.-based fintech startup built for teens and families, announced on Wednesday its official launch, offering a free FDIC insured bank account and Visa card. Step explained that through its app, it offers an all-in-one banking solution with a new type of personalized card that has no interest or fees and helps teens build positive credit.
Step further revealed that over the summer it began piloting the app with friends and family, experiencing overwhelming interest for this new type of no-fee, all-in-one banking solution.
"After rave reviews from more than 100,000 users during the pilot phase, today Step is available to the public for the very first time."
Step allows users to:
Ditch the fees: Step was built to always put the customer first –– removing monthly, overdraft, ATM and late fees with no minimum balance required.
Learn smart money habits: Step dynamically tracks card balances, reminding users of their remaining balance each time they make a transaction. Parents also have visibility into their teen's spending to help guide their financial future.
Build positive credit: Step helps kick-start teens' financial futures early by building up their credit history to help lower the cost of auto insurance, student loans and more.
Send and receive money instantly: With a unique P2P payments platform, the Step App enables parents and teens to send and receive money within seconds for an allowance, trip to the mall and more.
Start earning today: Teens can earn unlimited rewards through Step's referral program by sharing a unique link with friends and family –– earning $1 for each signup. Users can double their earnings by joining the Step Squad.
Speaking about the app's features, CJ MacDonald, Founder and CEO at Step, stated:
"Today's teens grew up in the online world with technology serving as an integral part of their daily lives. They expect to manage their money in the same way as their social media but banks have failed to keep up––largely overlooking this generation and their unique needs. Step was built to fill this gap, providing modern financial tools that enable teens to easily manage their money while helping to improve their financial literacy at an earlier age."
Step added in celebration of the launch, the company will also be giving away $100,000.

Sponsored