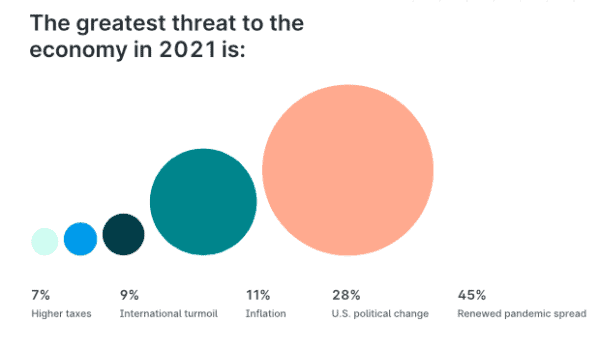 YieldStreet, an alternative investment platform serving accredited investors, says a recent survey of their clients shows resilience even during a time of turmoil. Between COVID-19, global and domestic political challenges, investors "remain largely unfazed" reports YieldStreet. In fact, 9 in 10 investors expect to invest at the same levels or higher next year in comparison to 2020 but COVID remains a worry.
The Yieldstreet survey of current investors was conducted in late August and the beginning of September.
Yieldstreet Founder and President Michael Weisz said they are excited by how unfazed investors say they are after a challenging year in the markets.
"It's not surprising that in a low-interest rate environment that investors are still looking to investments that provide the best risk-adjusted returns."
YieldStreet states that about half of the surveyed investors say the pandemic has had no impact on their confidence in investing and one in seven investors said they had more confidence in investing after the pandemic hit. Only one in three said they had less confidence.
Simultaneously, COVID concern remains as 45% said they feared a renewed pandemic outbreak would be the greatest threat to the economy next year, followed by political change at 28% as the country is in the midst of a Presidential election.
Approximately two-thirds, or 62% of investors, said they plan to change their asset allocations in the coming year, using cash and cash equivalents and redeploying those liquid assets to invest in alternative investments and equities.
Slightly more than half (55%) of investors expect to increase their alternatives holdings and slightly more than a third (35%) said they would increase their equities allocations.
"It is encouraging to see that alternatives are now in the mix more than ever, where retail investors are looking to have them alongside their equity portfolios," said Yieldstreet Founder and CEO Milind Mehere.
Sponsored Links by DQ Promote