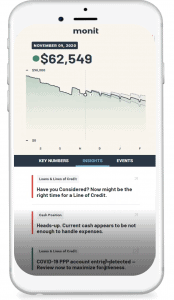 Monit has announced new features for banks that offer Monit to their small business customers. According to a release, by using predictive intelligence, Monit now offers banks a high-level, holistic overview of the health of their aggregated portfolio of small-business customers, as well as digital tools to better serve those customers.
Monit is a Boston-based predictive intelligence tech firm providing services to business owners and the financial institutions that serve them.
Monit keeps strives to help small business owners stay on top of their finances in a way by providing predictive tools. The company says that most small businesses have three to five relationships with banks or other financial institutions. Monit combines these services into a single application.
Steve Dow, CEO and co-founder of Monit, stated:
"The industry is seeing a clear trend of mega-banks investing heavily in digital services to support their business customers by connecting to accounting and other critical services while layering predictive analytics and guidance. The Monit platform enables community banks and credit unions to punch above their weight by leveraging predictive intelligence to give community bankers new insights to understand what their business customers need and when to offer it. With Monit, bankers can be more than just a vendor to their small businesses and get back to being a trusted advisor to their clients. In doing so, banks will realize deeper relationships and boost their bottom line."
Monit sites the example of Eastern Bank, a top SBA small business lender in the New England region, that started using Monit earlier this year. Ashley Nagle Eknaian, chief digital strategist and head of Eastern Labs at Eastern Bank said the platform allows them to help small businessesvisualize their finances, which can lead to more opportunity to realize their long-term growth plans.
"It enables us to deepen relationships with our customers, and we see Monit as a real differentiator for us in the market."
Sponsored Links by DQ Promote