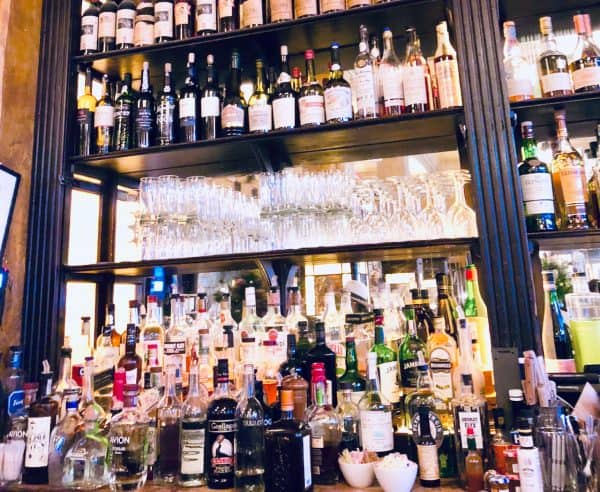 Two New York City bars could potentially make history by selling for Bitcoin (BTC), the flagship cryptocurrency that's currently trading at almost $41,000, up from only $3,800 back in March 2020 (which was when the digital asset crashed briefly along with the broader financial markets due to the economic uncertainty created by COVID-19).
As first reported by the NY Post, a Big Apple bar owner is "bowing out" — and betting big on Bitcoin with what might just be the first crypto-only restaurant sale in the United States.
This past week, Patrick Hughes decided to put his side-by-side Hell's Kitchen watering holes, Hellcat Annie's and Scruffy Duffy's, up for sale. Hughes is asking for 25 Bitcoins, valued at just over $1 million at the time of writing, or 800 Ethereum (ETH) tokens, which are also worth over $1 million at current prices.
Hughes, aged 56, stated:
"Crypto is on fire, it's a hot currency. It's decentralized. It's global."
The digital assets market is being driven by rising fears about debt and the gradual devaluation of the US dollar, which has been the world's most dominant currency for many years. Hughes may be joining many other investors, large institutions and everyday US residents who now believe that Bitcoin and some other cryptocurrencies could serve as a legitimate alternative to the fiat-based monetary system.
National Football League (NFL) player Russell Okung had demanded back in May 2019 to be paid his salary in Bitcoin. His request was recently approved and fulfilled by the Carolina Panthers. Major payments companies like Square and now even PayPal are offering ways to easily acquire Bitcoin, Ethereum, and several other crypto-assets. US federal regulators are also working on assisting banks with easily settling transactions in digital currencies.
The sale of Hellcat Annie's and Scruffy Duffy's may potentially mark a significant new chapter in supporting further growth and adoption of cryptocurrencies in the US and globally.
Charles Cascarilla, CEO at Paxos Trust Company, remarked:
"I'm not aware of any other bars or restaurants that have been sold for crypto only. But more and more people look at crypto as a monetary instrument. We're really at a tipping point of its acceptance."
Before the Coronavirus crisis began, Hughes had employed 50 workers at his establishments. But he's now down to just five or six employees. He claims that he's managed to do a lot better than many others, mainly because his bars had been closed during most of last year.
He added:
"I played golf, read books, worked on the house and taught myself how to make cartoons."
Hughes confirmed that he reopened Hellcat Annie's back in November 2020, complete with an open-air cabin located on Tenth Avenue. He also mentioned that the bar sales are almost back to pre-COVID levels. Scruffy Duffy's, however, is still closed and is awaiting the return of indoor dining.
(Hughes and a business partner had established Scruffy's on Eighth Avenue back in 1990.  Then, Hughes had moved it to the present location in 2019. Hughes relaunched Annie's in 2009, after operating it as Pony Bar for several years.)
Hughes noted that COVID has created many challenges for his friends or colleagues working in the industry, however, he also confirmed that the Coronavirus crisis has cemented his previous plans to permanently leave the business.
Hughes added:
"I'm hoping to catch one of these crypto dudes who always wanted to own a bar."
Henry Salmon, a New York City real estate appraiser and president of Equity Valuation Associates, stated:
"I don't think the dollar is going anywhere anytime soon. The dollar on the world market still has a lot of value." 
However, Hughes thinks that "the next crisis, you won't have to run out and buy toilet paper, [because] you can just use your dollars instead."

Sponsored Links by DQ Promote