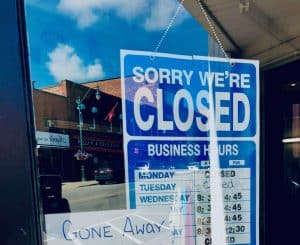 Over 160 physical bank branch locations are shutting down permanently between now and the end of the lockdown period, which has been tentatively scheduled for late March 2021 in the UK. 
As first reported by the Daily Mail, these bank branch closures will come as industry professionals have cautioned that the United Kingdom might experience a potential crisis over access to cash or paper currency notes. Industry experts have expressed concerns that unless quick action is taken by banking institutions, payment service providers, regulators, and the UK government, the nation's network of free cash machines and other banking facilities could disintegrate. 
On Friday (January 8, 2021), Natalie Ceeney, who chaired the UK government's Access to Cash Review and has been quite vocal regarding the decline of cash availability on the high street, told The Mail: 
"We need a national strategy urgently, before the cash infrastructure collapses, leaving millions of people behind."
While the nation's government has plans to pass legislation to ensure that residents have access to cash, there's a growing concern that when these laws are eventually passed, it could be too late.
There are also fears that certain banks might stop supporting local post offices and the cash machine network Link. This could impact the right and ability of locals to use the post office for accessing key banking services and to use cash machines without paying extra charges.
The official websites of the UK's high street banks indicate that by the end of March 2021, they will have closed down around 167 branches (by Q1 of this year). 
TSB is expected to take the lead, followed closely by Barclays and Lloyds, with many bank branch closures also resulting in the removal of cash machines. TSB's management stated that there may be additional physical branch closures announced during Q2 2021.
On January 8, HSBC, NatWest and Santander clarified that they haven't officially confirmed any branch closures during 2021. However, industry professionals claim that it's quite unlikely their high street networks won't be trimmed in response to low levels of customer usage, which has been due to lockdown measures. 
Ceeney added: 
"Bank branches do not just support those who can't bank online. They are a core part of the UK's cash infrastructure. Retailers need branches to get cash floats and to pay in their takings, while counter services are essential for those who are too frail or vulnerable to use cash machines, or who need help with their money."
Derek French, a supporter of shared bank branches, said that he believes a "flood" of closures in 2021 will be due to the Covid-19 pandemic which has led to significantly reduced branch usage. The Coronavirus crisis has also contributed to the rise of contactless payments and increased use of online banking platforms, French added. 

Ceeney is now leading an initiative to look into new ways of offering banking services on the high street, such as new types of post offices that are like "banking hubs" (and not like facilities for individuals needing to post letters or packages). They could offer small businesses something like a "reverse" cash machine, enabling them to handle cash securely, while allowing customers to take care of their banking needs with more privacy. 

But the initiative has been affected by Covid-related restrictions. This has led to tests of "pilot" post office banking hubs being postponed and they're not expected to start anytime soon.

French is critical of Ceeney's initiative. He noted that "an ill-timed pilot of a random assortment of ideas is not enough." He also said that the government "needs to wake up to the fact that its promised access to cash legislation has to have teeth."

Sponsored Links by DQ Promote