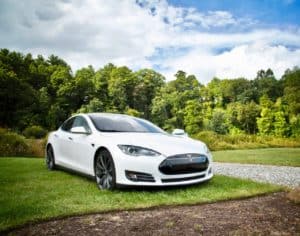 The developers of Injective Protocol, a digital assets derivatives exchange for DeFi that has been supported by Binance and Pantera Capital, has launched what it claims to be "the world's first decentralized Tesla Stock Futures Trading."
The Injective Protocol team stated that they're pleased to introduce Tesla futures trading on Injective's Solstice Pro Testnet (or test network). This notably marks "the first time in history that Tesla futures can be traded in an entirely decentralized setting," the Injective team confirmed.
As most people would know, Tesla (NASDAQ:TSLA) is a fast-growing electric vehicle company launched by multi-billionaire, serial entrepreneur Elon Musk who recently became the wealthiest person on the planet.
As noted by Injective:
"The Tesla stock has also had a blockbuster year throughout 2020, becoming one of the best performing large cap stocks last year in the traditional markets. Tesla is by far the most traded stock by value on Wall Street, with $18 billion worth of its shares exchanged on average in each session over the past 12 months, easily beating Apple, in second place with average daily trades of $14 billion."
It's mainly for this surging retail interest and record-breaking trading volumes that the Injective team decided that Tesla would be the first major futures market on Injective.

While sharing details about this trading option, Injective noted that the first Tesla future on platform "will be live starting now on the Solstice Pro Testnet." The expiration date for the contract is March 26, 2021, and the ticker is: TSLA/USDT-0326.

During the next few weeks, Injective intends to offer several other stock futures on its platform (and will be making announcements regarding their launch).

As previously reported, Injective Protocol serves as a layer-2 decentralized or non-custodial exchange protocol that aims to tap into the "full potential of decentralized derivatives and borderless DeFi."

Injective Protocol is focused on supporting "fully decentralized" trading without any restrictions for traders or investors, enabling individuals to trade on "any derivative market of their choosing." Injective Protocol is backed by an established group of stakeholders such as Pantera Capital, a well-known VC firm, and the leading digital asset exchange, Binance.

As reported recently, Injective Protocol announced the launch of Solstice Pro, which brings various institutional-grade products to their non-custodial exchange. Injective Protocol will be offering access to a new institutional version of Solstice that is "months ahead" of its original schedule.

The Injective team had noted (in late December 2020) that they had been working in stealth for some time on UI and infrastructure updates that cater to institutions since they saw "a massive lack of development in that arena to date." Injective now aims to "usher in a new era of institutional adoption for decentralized derivatives trading."

Injective has also introduced "decentralized" expiry futures trading on their platform. Beginning this week, the platform's Solstice Pro Testnet will offer access to different trading opportunities like stocks that "only helps to expand the limitless capabilities of Injective."

Sponsored Links by DQ Promote