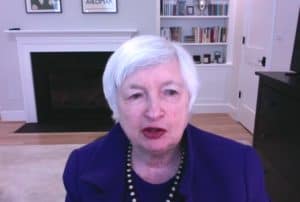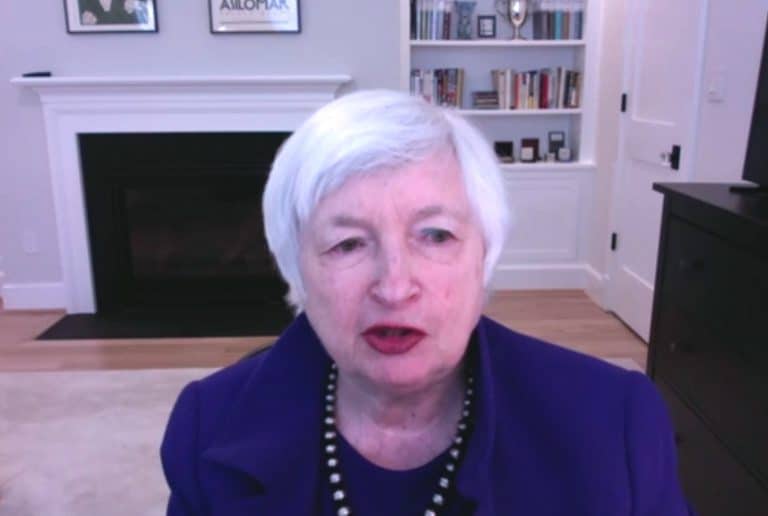 US Treasury Secretary Janet Yellen stated on Monday (February 22, 2021) that Bitcoin is an "extremely inefficient" way to settle financial transactions.
Yellen commented on how the digital currency's price fell sharply (as usual) during morning trading hours, but then stayed above the $53,000 mark for an extended period of time.
The Treasury Secretary's statements have come after Elon Musk's Tesla acquired $1.5 billion in Bitcoin (BTC) and had already made around a billion dollars in unrealized profits when the crypto's price surged past the $57,000 mark.
Despite these developments, Yellen is still concerned about Bitcoin's ability to serve as a reliable medium of exchange.
She remarked:
"I don't think that Bitcoin … is widely used as a transaction mechanism." 
Yellen also told CNBC's Andrew Ross Sorkin at a New York Times DealBook event that "to the extent it is used I fear it's often for illicit finance." She also mentioned that it's "an extremely inefficient way of conducting transactions, and the amount of energy that's consumed in processing those transactions is staggering."
Mining Bitcoin requires users to set up computing devices that have to solve complex mathematical problems which use up a lot of computing resources (thus consuming very large amounts of electricity). The power consumption of the Bitcoin network is now leaving a yearly carbon footprint that's comparable to entire countries like New Zealand, Digiconomist data confirms.
Bitcoin transactions have also been carried out by individuals or organizations that have been involved or linked to various illicit activities such as money laundering and terrorism financing.
Then Bitcoin users are constantly having to deal with really high levels of volatility, as the virtual currency's price fluctuates wildly, which means that a $100 payment may be worth $50 or even less at the end of the business day. This can make accepting BTC payments really impractical for smaller businesses who need a much more reliable cash flow.
Yellen added:
"It is a highly speculative asset and you know I think people should be aware it can be extremely volatile and I do worry about potential losses that investors can suffer."
Several different government agencies are now working on their own virtual currencies, which are commonly referred to as central bank digital currencies or CBDCs.

China has decisively taken the lead when it comes to issuing a State-controlled virtual currency, however, there are concerns of it being used as a financial surveillance tool that may raise serious privacy concerns.

The US Federal Reserve, where Yellen previously served as chairperson, has been looking into the feasibility of introducing a digital currency and also a more reliable payments system – which may be launching in the next few years.

Yellen thinks that the new payment system may "result in faster, safer and cheaper" transactions which she feels are "important goals."

Sponsored Links by DQ Promote