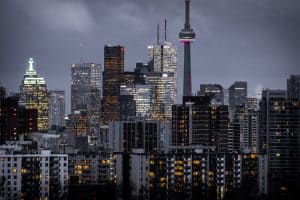 Toronto-headquartered Clearco — which was previously doing business as Clearbanc — has secured $215 million in growth equity through a round that was recently led by the SoftBank Vision Fund 2. The firm is now focused on its global expansion efforts.
Established in 2015, the firm has secured over $681 million in capital, to date (according to Crunchbase data).
In April 2021, Clearco acquired $100 million in equity and $250 million in debt financing – which valued the business at nearly $2 billion. Also in April, the company confirmed its rebranding to Clearco.
Clearco was notably one of the first firms in what has become a fast-evolving alternative finance sector, providing revenue-based advances to early-stage ventures or startups operating primarily in the digital commerce, software-as-a-service (SaaS) and mobile apps ecosystem.
Andrew D'Souza, Co-founder and CEO at Clearco, reveals that he initially got the idea or business concept after making the move from Canada to Silicon Valley around 10 years back. It was at that time that D'Souza figured out that the opportunity to acquire venture capital funding was quite different in Silicon Valley when compared to other jurisdictions. After realizing this, D'Souza  began working on his ideas which involved assisting business owners whose firms had legitimate product ideas but might not have been in a position to secure considerable capital.
Clearco's management confirmed that they'll use the proceeds from the round to expand their global footprint which is something many in the industry have been focused on doing, especially after the COVID outbreak.
Clearco established business offices in the United Kingdom last year. The firm also expanded into other European markets such as the Netherlands in 2021. The company says it will now be focused on other jurisdictions in Europe and across Asia.
Clearco provides advances, which might range from $10,000 to $10 million. These are offered to firms that have steady turnover.
Clearco gets a 6% fee from the advance when it is repaid. Although there's no fixed maturity date to make the repayments for the financing, most firms reportedly pay back the loan in a year, the company claims. This type of financial assistance lets firms access much-needed cash that they can channel into their business without compromising their equity stake in the company.
Clearco has also introduced its ClearAngel platform in order to assist early-stage ventures by providing them the resources needed to expand their business without acquiring an investment stake in these startups. Clearco only gets a 2% share of the firm's revenue for a 4-year period (as part of the deal).
Clearco doesn't provide detailed financials, however, Crunchbase reports that the firm has provided over $2.4 billion in total to over 5,500 firms, Clearco's management confirmed.