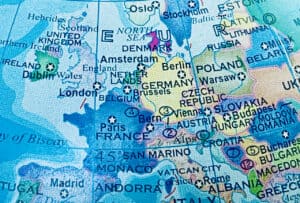 This coming November, pan-European rules for investment crowdfunding will become actionable by platforms and issuers. Under the new rules, issuers may raise capital from across all European Union member states. Firms may raise up to €5 million. While these are EU rules, local nuances still exist and may enable certain jurisdictions to encourage platforms and issuers to base offerings within a specific member state.
In a release received by CI today, CreditOnline and the law office of EXE.legal believe that Lithuania is poised to emerge as a jurisdiction of preference for investment crowdfunding.
The two entities have signed a strategic partnership agreement on providing integrated solutions to crowdfunding service providers (CFSPs) – a one-stop-shop of legal and technology services.
Dr. Paulius Astromskis from EXE.legal, says the favourable Lithuanian business environment and the growing reputation of Lithuania as the EU's Fintech centre
could help the country attract new crowdfunding market players who would develop their business from Lithuania.
"Lithuania holds 11th place of 190 countries in the global Doing Business ranking. This means that, in general, we can offer especially favourable business conditions to companies that want to build their business in Lithuania. Furthermore, Lithuania has markedly improved its reputation as Europe's fintech centre over the past few years, with an ideal ecosystem and high- quality oversight. Due to these and a myriad of other reasons, the new crowdfunding market regulations could be especially favourable for Lithuania," states Astromskis.
Juozas Rupšys, the founder and head of CreditOnline, believes the rapid growth of the crowdfunding market in Lithuania shows they know how to grow this business niche.

Creditonline reports that it currently operates across 15 countries, including Denmark, Spain, Brazil, Mexico, Switzerland and the Baltic States, with representations in Argentina and the UK. Creditonline provides lending services including loan management, installment loans, payday loans and more.

Sponsored Links by DQ Promote