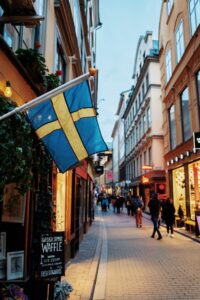 Quartr, which is the app that gives investors on-the-go access to company details, has secured $4.5 million via a seed round from prominent investors.
The firm's investment round has reportedly been led by The Öhman Group with established investors such as Michael Batnick, Ben Carlson, Josh Brown, Barry Ritholtz and Peter Sterky (CEO at Trift Capital and former Spotify COO and CFO) also contributing to the round.
Established less than a year ago, and currently employing a team of 23 professionals, the Stockholm-headquartered firm addresses a major problem for investors and firms, providing the first all-digital platform for investors interested in making more informed decisions, while also serving firms with meaningful insights they require to enhance their communications.
The firm has more than 250,000 played events from over 4,000 firms across 15 different markets. It has also introduced a feature that allows clients to highlight and guide other investors to certain points of interest within its audio content.
Quartr's management noted that they will use the proceeds to scale their platform and operations internationally, strengthening its B2B unit so that firms are able  to use the platform to connect and obtain feedback from investors residing in 150+ markets.
For Investors – Better Decisions And Improved Access
Company events, like earnings, represent a key opportunity for investors to obtain important insights on a firm, however, finding appropriate information and connecting with firms is time-consuming, one-way, costly, and mainly analogue.
With Quartr, clients are able to view the updated investor presentations that have taken place internationally and listen in or read up, when they want. For the first time ever, investors will be given complete access and control of the content, across both audio and text.
Users are able to access PDFs of the transcripts, presentation slide decks, and earnings reports, 'favorite' certain firms, and sync events with their calendar so that they don't miss any calls in the future.
For Firms – Improved Investor Reach and Option to Assess Sentiment
Quartr gives firms considerable reach by offering access to the right investors, without any extra production costs.
With the app's updated player, investors are able to leave reactions and guide others to valuable sections of the presentations.
This gives firms important data on investor sentiment, which may be used with other metrics from the Quartr Analytics dashboard to assist them with better understanding investors and effectively iterate on their ongoing communications in the future.
"We're on a mission to make every interaction between companies and investors meaningful, and want to become the golden standard for how they communicate," stated Sami Osman, CEO and Co-founder at Quartr, who launched the company with assistance from August Nordström, Oliver Hamrin, Oscar Küntzel, and David Dag, who reportedly met via the Swedish financial community on Twitter.
Osman added:
"That's why we're cutting out the noise and giving anyone, regardless of their expertise, education, and network, easy access to quality insights that's historically been walled off for retail investors. At the same time, we're helping companies connect with more investors, expanding their reach and providing them with valuable investor sentiment data. We're delighted to welcome our new investors who, with their experience and contacts, will play a vital role in helping us scale globally."
Johan Malm, CEO at The Öhman Group, remarked:
"Quartr is transforming the way companies and investors interact with one another. We have been very impressed by the pace at which they have grown, and with such a visionary leadership team at the helm, we look forward to their global expansion. We are delighted to join them on their journey."
Michael Batnick, noted:
"Every now and then someone identifies a major pain point that suddenly seems obvious. Sometimes they go along and develop a product that will be industry-defining. Quartr has done both things already, and will undoubtedly bring investor relations into the 21st century."
Sponsored