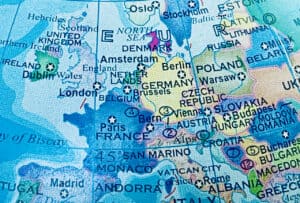 Marqeta (NASDAQ: MQ) has worked with Klarna since 2018 and today the two companies are broadening their relationship.
According to a statement from Marqeta, its partnership with Klarna will expand into 13 new European markets: the United Kingdom, Germany, France, Italy, Spain, Netherlands, Poland, Belgium, Austria, Ireland, Norway, Finland, and Denmark.
Marqeta is a leading Fintech in the card sector providing an updated platform to create and manage cards via open APIs. Klarna is a European neobank and payments platform.
The expansion kicks already kicked off with the launch of Klarna's UK shopping app in May 2021. This was followed by 12 additional markets in September, with Marqeta supporting Klarna's one-time virtual cards in all 12 markets.
Marqeta says this represents a significant expansion of the scope of the two companies' partnership, and is being described over a major win for Marqeta's European business.
Koen Kӧppen, Chief Technology Officer at Klarna, said they have seen significant growth in customer in the past few years:
"Marqeta's tech platform has helped us quickly realise new or improved products in complex markets. We're happy to now work with Marqeta in Europe to further leverage this expertise as we develop our offering."
Marqeta has also supported Klarna's Australian launch in 2020 and its recent expansion into the New Zealand market.
Jason Gardner, founder and CEO of Marqeta, called the partnership an incredible example of what a modern card platform can support:
"We're proud to enable such an innovative company in Klarna and are excited that they've shown this trust in our partnership to take on so much of their European business."
Sponsored