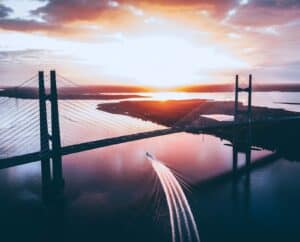 Mastercard writes in an update that the future of physical retail is "slowly making its way into your daily life."
As noted by Mastercard (NYSE: MA), you may find an example of that trend "near Section 244 at TIAA Bank Field in Jacksonville, Florida." There, the stadium – which is home to the NFL's Jacksonville Jaguars – has launched the new MRKT location.
As mentioned in a blog post by Mastercard, it's a contactless convenience store that leverages AI-powered cameras, QR codes and turnstiles to "get rid of checkout lines entirely." You can just "wave your phone at the entrance, grab what you want and get back to the game," the update explained.
MRKT, which opened in September of last year and uses Mastercard's Shop Anywhere technology platform, is reportedly part of "an effort to bring some of the best ideas from e-commerce into brick-and-mortar stores."
That work includes "building more analytics into shops so retailers can learn more about their foot traffic, including repeat visitors and time spent browsing, and using VR goggles in stores to let customers see what home décor and furniture look like in different settings," the announcement added.
The new year will "likely showcase even more ideas that will meld physical and virtual retail," according to Mastercard. (Note: to what MRKT actually looks and how it works, check here.)
In another update, Mastercard noted that in 2020, the firm "made a commitment to bring one billion people into the digital economy by 2025."
Now the firm is "shining a spotlight on the significance of financial inclusion in addressing some of the world's most pressing socioeconomic challenges in a new podcast called "Journey to One Billion." (Note: check here for more details.)
Mastercard has also noted:
"This past year was tumultuous — COVID surges and shifting guidance, supply chain complications and rising prices on gas and grocery staples. Yet on the payments side, there was some clarity. The continued digital acceleration and the growing embrace of cryptocurrencies provided a glimpse into how we will pay in the not-too-distant future, and what it takes to keep these new choices safe."
As covered, 2021 might not have seemed like the year cryptocurrency "got serious," according to an end-of-year update from Mastercard.
The team at Mastercard also mentioned that in 2021, we had Elon Musk sending Dogecoin (a virtual currency initially created as a joke) on "a roller coaster ride with his tweets and competing memes about which TV cast, 'The Sopranos' or 'The Office,' would be more savvy crypto investors."
Mastercard pointed out that the market for stablecoins in 2021 had "rocketed past $150 billion."
Banks such as New York-based Signature are "starting to take deposits in stablecoins, and Facebook parent company Meta is testing its own stablecoin with a pilot focused on remittances from the U.S. to Guatemala."
Mastercard also mentioned in its post:
"Of course all this market movement has attracted the attention of regulators, many of whom are worried that some stablecoins don't have adequate consumer protections and could put the larger economy at risk. The European Central Bank said earlier [in 2021] that stablecoin issuers should be required to keep significant cash reserves and believes it should have veto power over stablecoins in the eurozone."
Sponsored