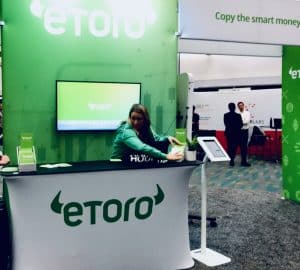 Callie Cox, the US-based Investment Analyst at eToro, notes that she's always thinking about how market moves and headlines affect your finances.
Starting January 7, 2022, Cox confirmed that she'll be publishing a weekly blog, titled The Bottom Line, which will look into what's happening in markets, culture, and the retail investing sector.
Cox writes that she's also intrigued by behavioral finance — "the study of how emotions impact investing — so we'll talk about feels, too."
She added that she can't wait to "take this investing journey with you." As noted by Cox, the first week of 2022 "sets the tone for the rest of the year."
She pointed out that we all make our resolutions, "tell our friends, and take those first few steps to becoming a new human."
Wall Street "does the same thing," she added while noting that the big banks "release their outlooks for the year, proclaiming what they expect from earnings, the economy, and markets."
She added that we all know the market isn't "just Wall Street anymore." Individual investors are now a "powerful force in finance." Cox also mentioned that U.S. households have "more money in stocks than ever before, and they've started to move markets through social-fueled cooperation."
She asked "how are everyday investors priming their portfolios for the year ahead?" eToro surveyed 2,000 adults, "ages 18 to 65, to find out."
Turns out they're "feeling more confident in their financial plans and ready to add to their portfolios, especially in crypto," Cox claims.
She also shared that 32% of respondents said they typically "keep financial resolutions for the entire year, compared to 18% who said they keep other resolutions for the full year."
According to the eToro survey, people seem to be better at "keeping their financial resolutions than non-financial resolutions, such as going to the gym and eating better." To them, that's "a testament to how important finances have become to everyday Americans."
Talking about money "keeps the world informed, empowered, and intentional," Cox wrote in the update.
She added that this may be "extra important in the year ahead." Based on history, we could be "overdue for a quick reset in stocks." Since 1950, the S&P 500 has "gone through a selloff of 10% or more every two years, on average," she added while noting that we may "even be in the midst of that now, as high-growth stocks slide."
She continued:
"We're all for keeping your resolutions, but remember: it's smart to plan for your plan to fail. This isn't a comment on your willpower, but more a statement on life's ups and downs. Wise investors stay calm and look for opportunity in times of trouble."
She also noted that nearly half of respondents said they're "more likely to invest this year compared to last year." Retail investors largely "aren't feeling discouraged by record prices, the Fed, or the yield tantrum 2.0," Cox added while noting that they're "keeping calm and investing."
She also mentioned:
"If 2021 taught us anything, it's that stock prices rise when people want to buy stocks, even when the environment feels uneasy. Cash on the sidelines could still be a powerful engine for the market, especially with low bond yields and expensive prices in other markets. There's a wave of new-age investors armed with memories of an 11-year bull market. Plus, with inflation raging at a 40-year high, it's especially important to think about putting money to work."
She also shared that about 36% said "they're planning to invest in crypto."
Crypto had its "coming-of-age moment last year, as it evolved from a niche concept to an everyday conversation." Cox further noted that Tesla bought "billions in Bitcoin for its balance sheet." Big merchants like PayPal and Visa started "accepting crypto as payment." And even Wall Street "entered the crypto chat with their own investments."
She added:
"Today, while crypto is a part of everyday conversation, there are still plenty of people learning about the space. Adoption is happening rapidly, and there's a chance that crypto has an even bigger year in the spotlight."
According to Cox, this maturation may "not prevent big swings in crypto prices." She explained that there's still "a lot of risk" and it's still "a relatively new market that's difficult to value." She also noted that "new money could see dips as a chance to buy in."
She also mentioned:
"Crypto is worth paying attention to even if you're not investing in it just yet. After all, thinking of crypto and stocks as separate markets is so 2021. Everything is connected in one big financial ecosystem. We need to start thinking critically about how crypto markets interact with other assets to better understand our own portfolios."
She pointed out that over 70% of respondents "cited family, friends, and social media as their biggest inspirations to invest."
COVID's lockdowns and quarantines have "shined a light on the importance of community. Humans crave social interaction and approval," Cox added.
She also noted:
"That need for community has grown into a stock market movement. Just ask GameStop investors who found themselves in the middle of a historic short squeeze last year. Social media isn't going away, either — the WallStreetBets subreddit now boasts 11.4 million subscribers. It's the network effect, capital markets style."
eToro Group Ltd  (eToro), a multi-asset platform that empowers people to grow their financial knowledge as part of a global community of investors, announced on January 7, 2020, the appointment of Callie Cox as Investment Analyst for the U.S. market.
In her role, Callie will be responsible for "providing expert analysis of U.S. market trends and sharing practical insights that empower eToro users to make the investment decisions that are right for them."
She will be based in Charlotte, N.C.
Lule Demmissie, eToro US CEO said:
"We're thrilled to welcome Callie Cox to the eToro team. Her passion for the power of investing closely aligns with our core ideals as we work to increase our focus on the U.S. market. Callie also brings with her extensive knowledge of capital markets, including trends and economics in equities, derivatives and fixed income. Her professional experience and personal drive make her the perfect fit to help grow eToro's vision for the future as we scale our current product offering for U.S. users."
Callie joins eToro from Ally Invest where she "held the role of Senior Investment Strategist."
Callie Cox, eToro Investment Analyst added:
"I'm extremely excited to be joining the growing team at eToro. The company is at a pivotal stage in its growth trajectory, especially as it relates to the U.S. market. I look forward to working closely with eToro's investors to expand their knowledge and empower them on their investing journey. As a social investment network, eToro has a very unique, community-oriented offering and I'm excited to bring my experience to the table to help make investing more accessible to everyone."
For more details on this announcement, check here.

Sponsored