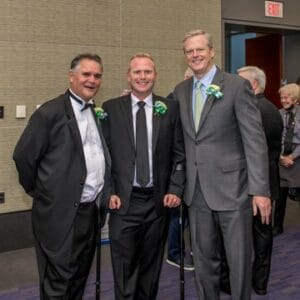 Thomas Smith, Head of Business Development for Netcapital (OTCQX: NCPL), has received the John T. "Doc" Tynan Profile in Courage Award by the South Boston Citizens' Association. Netcapital is an online capital formation provider assisting early-stage firms in accessing growth financing.
The award, delivered by Massachusetts Governor Charlie Baker, is named for the late, legendary South Boston resident "Doc" Tynan and is given in recognition of dedication and courage in the face of overwhelming odds.
According to a statement by Netcapital, Smith sustained and recovered from three separate paralyzing injuries stemming from his pursuit of collegiate hockey. After his third accident, Smith redefined his personal mission, co-founding the Thomas E. Smith Foundation, a 501(c)(3) volunteer organization that has donated more than $785,000 for the benefit of individuals suffering from paralysis and toward medical research. Since its founding, the Foundation, has been leading the charge for athletes with physical disabilities and receiving patents in both the United States and Canada for his invention The Look-Up Line (ice hockey's warning track).
Smith became the first paralyzed participant in the history of the Boston Marathon to complete the event multiple times without the use of a wheelchair.
"Thank you to Governor Charlie Baker and the South Boston Citizens' Association for presenting me with the John T. 'Doc' Tynan Profile in Courage Award. To say I'm humbled, honored, and appreciative would be an understatement. I'm deeply committed to continuing our work together in 2022," said Smith.
Dr. Cecilia Lenk, CEO of Netcapital Inc., said her firm is honored to have a person with such fortitude and philanthropic spirit on their team:
"… we appreciate not only his business contributions, but the invaluable contributions he makes to the citizens of South Boston, the residents of Massachusetts and nationwide. We congratulate him for his Profile in Courage honor."
Thomas Smith, Head of Business Development for @netcapital, has received the John T. "Doc" Tynan Profile in Courage Award by the South Boston Citizens' Association, America's oldest civic association.

Read more about the Profile in Courage Award here: https://t.co/HQQEvkiGia pic.twitter.com/QKaJtBfidZ

— netcapitalinc (@netcapitalinc) January 20, 2022
Sponsored