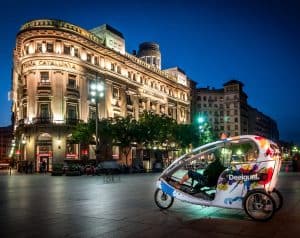 Bit2Me is joining forces with Axie Infinity.
At Bit2Me, the first VASP approved to offer services in Spain, they have entered an agreement with Axie Infinity to be their "reference partners" in Spain, Portugal, and Latin America. In addition, they'll be supporting events organized by the Axie Infinity community in Southern Europe.
At Bit2Me, they are focused on strategic partnerships that "enhance the value and utility of [their] platform, products, and services." That is why they've teamed up with one of the largest blockchain play-to-earn games in the crypto space.
Axie Infinity claims over 3 million registered users globally, "being one of the most popular digital games today." Thanks to its Play-to-Earn game offer, Axie Infinity is "opening the door to a new digital and decentralized player-driven economy."
At present, Axie Infinity is one of top Play-to-Earn (P2E) game providers, which has built a strong community, "showing the immense power of this new way of interacting and monetizing by combining technology, finance, and entertainment."
In order to bring the potential of Axie Infinity to end-users, the Bit2Me team has become an exchange partner of this blockchain game. With their presence in over 100 countries worldwide and 2.9 million Bit2Me Academy students from Latin America, Spain and Portugal, they can "drive and grow the Axie Infinity user community in emerging regions, such as Southern Europe and Latin America, towards the crypto industry."
Koh Onozawa, CEO of B2M, stated:
"We're very grateful for this great agreement with Axie Infinity. Axie has changed and continues to change the lives of millions of people around the world, and Bit2Me is proud to be one of its partners and help its players in Southern Europe and LATAM with their fiat on/off ramps, as well as with its community-building actions. Thanks to Jeffery Zirlin, co-founder of Axie Infinity for making us part of this journey towards a wider web3 adoption."
With this strategic collaboration, Bit2Me will supports initiatives organized by the Axie Infinity community in Spain and Portugal to more users to this worldwide movement.
One of their hallmarks at Bit2Me is the simplicity of their processes, which will also be seen in their alliance with Axie, the firm claims. Via their platform, you'll be able "to access all the options that Axie Infinity's governance token AXS (Axie Infinity Shards) gives you."
To acquire AXS, you need to:
Log in to your Bit2Me account;
open Bit2Me Wallet;
choose the AXS cryptocurrency;
and click Buy.
These services are global and "completely secure, so you can access your Bit2Me wallet from any device… wherever you are."