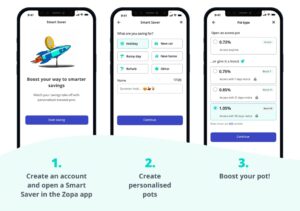 Zopa, a digital bank, has launched a new, branded savings product called "Smart Saver." The savings vehicle currently offers a 0.72% return for "immediate access to savings," a return which is said to be 72 x the standard high street offering during a time of historically low-interest rates. Zopa said that customers may choose to "boost" their rates up to 1.05% by locking funds for a period of time. Zopa aims to encourage more accounts as it is offering "the highest return for equivalent accounts currently available on the market."
Zopa explains that it enables account holders to balance access and interest rates from a dashboard. To access funds in a "boosted Pot" users need to provide:
Notice of 7 days for the Boost7 Pot earning 0.75% AER
Notice of 31 days for the Boost31 Pot earning 0.85%, AER
Notice of 95 days for the Boost95 Pot earning 1.05% AER
Zopa states that internal research showed that 8 out of 10 adults under 30 want to organise savings based on what they're saving towards. A similarly large majority wants to create barriers and limitations on accessing portions of their savings to stop themselves dipping into savings for spending.
Merve Ferrero, Chief Strategy Officer at Zopa said the Smart Saver service offers the best of both banking and Fintech:
"By building on the foundations of the easy access account but evolving it, Zopa offers a higher interest rate in a sustainable manner. At the same time, it gives users control over how and when they access their money based on their goals. And we're only getting started. Over the next 12 months we plan on doubling our savings portfolio to £2 billion while continuing to find innovative ways to help our customers grow their savings".
The "Smart Saver" account is the bank's second savings product following the launch of the Zopa Fixed Rate Savings account that amassed £1 billion in customer savings in just 18 months,

Since launching in 2020, Zopa bank reports that it has attracted £1 billion in deposits and £1.5 billion of loans on its balance sheet.

Sponsored