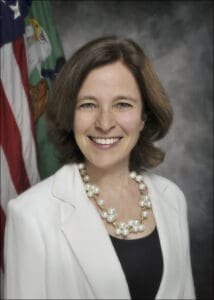 Following questions regarding sufficient support in the US Senate, Sarah Bloom Raskin has decided to pull her name for consideration as a Federal Reserve Board Member.
Yesterday, Senator Joe Manchin indicated he would not vote to confirm her nomination – potentially leaving the Senate without sufficient Democrate votes to approve her nomination. This was due to her activist approach regarding energy policy. In the past, Raskin had indicated that financing should be used more aggressively as a tool to pursue climate policy. In 2020, Raskin criticized the emergency lending program supporting oil and gas companies advocating that they should be denied to pursue climate change goals.
Senator Manchin stated her "previous public statements have failed to satisfactorily address my concerns about the critical importance of financing an all-of-the-above energy policy to meet our nation's critical energy needs."
Reportedly, Raskin sent a letter to President Joe Biden outlining her decision to no longer be a nominee.
Raskin said she fears that "many in and outside the Senate are unwilling to acknowledge the economic complications of climate change and the toll it has placed, and will continue to place, on Americans." She added that, in her opinion, she stands with the majority of financial regulators recognatin the impact of climate change on the future of American and the world in general.
Raskin's belief that that there is a "need to integrate climate-based risks and costs into the financial regulatory apparatus" put her at odds with Senate Republicans who prefer that a nominee adhere's to the Feds stated goals and not an activist policy that goes beyond the Feds core mission.
Additionally, Raskin's aggressive posture aiming to undercut the oil and gas industry appears to be out of alignment with a broader, immediate concern that high oil prices are punishing everyday American's who are struggling to make ends meet as gas prices hit new record highs.
This is the second, high profile nominee for a government financial entity that has been shotdown on a bipartisan basis. Last year, Saul Omorova saw her nomination as the Comptroller of the Currency derailed due to similar concerns about her radical beliefs. Observers wonder if President Biden will shift more to the center with future nominations or continue to risk pushback from his own party.