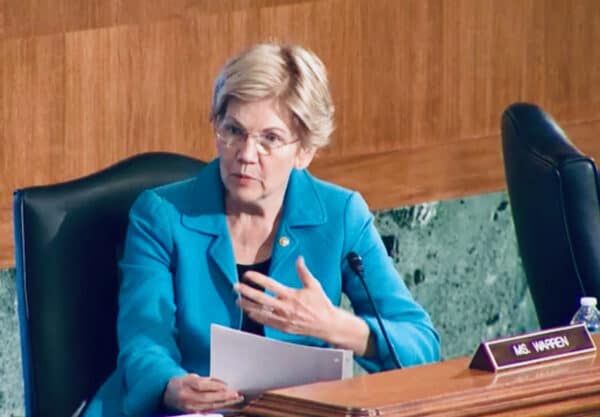 Yesterday, Senator Elizabeth Warren, along with several other Democrat Senators, introduced legislation that is designed to crack down on Russian "Elites" or oligarchs, who may utilize crypto to evade the economic sanctions that have been applied by many countries around the world.
The Digital Asset Sanctions Compliance Enhancement Act of 2022 aims to impact any "digital asset transaction facilitator". US taxpayers would need to report any transaction that is valued at $10,000 or more.
The US Department of Treasury would be provided "clear authority to prohibit digital asset trading platforms and transaction facilitators under U.S. jurisdiction from transacting with cryptocurrency addresses that are known to be, or could reasonably be known to be, in Russia."
Additionally, the President would be required to identify "foreign digital asset actors that are facilitating evasion of sanctions against Russia."
The bill, as it stands today, is available here.
Senator Warren commented on the legislation:
"In order for the sanctions levied by the United States and our allies to have the maximum impact on Vladimir Putin and his oligarch friends, we must close off avenues they might use to evade those sanctions. This legislation will crack down on foreign actors who help sanctioned Russians use digital assets like cryptocurrencies to circumvent the crippling measures we've put in place to punish Russia for its barbaric invasion of Ukraine."
Sam Bankman-Fried, founder and CEO of FTX – a crypto exchange that operates both in the United States as well as internationally, visited with CNBC explaining that crypto is very difficult to utilize to evade sanctions. He said that his platform, as do other platforms, check to ensure no sanctions are being abused:
"They have been fairly effective in preventing it," said Bankman-Fried. "A number of years ago it was a different story," explaining that in 2017 and 2018 the space was a lot weaker when it came to regulatory issues but during the past four years much has been "cleaned up."
He said it is good to be having a discussion around this and they would "love to talk to [Senator Warren]." As well, Bankman-Fried shared that his exchange does not accept any transfers from Russian banks.

Most crypto observers understand that the crypto market is too small to help the Russian government but there could be a risk for transactions from very wealthy individuals. Of course, any virtual asset service provider that enables an oligarch may feel the wrath of global regulators – due to the transparent nature of blockchain-based transactions.

Senator Warren has been fairly critical of crypto, arguing there is a high risk for investors participating in the market, as well as excessively high fees and illicit activity. She noted that SEC Chairman Gary Gensler has stated that crypto exchanges must be regulated to "protect investors and our financial system."

Along with Senator Warren, Senators Jack Reed and Jon Tester sponsored the bill. Co-sponsors include Senators Tammy Duckworth, Debbie Stabenow, Raphael Warnock, Chris Van Hollen, Tina Smith, Catherine Cortez Masto, and Bob Menendez.

Sponsored