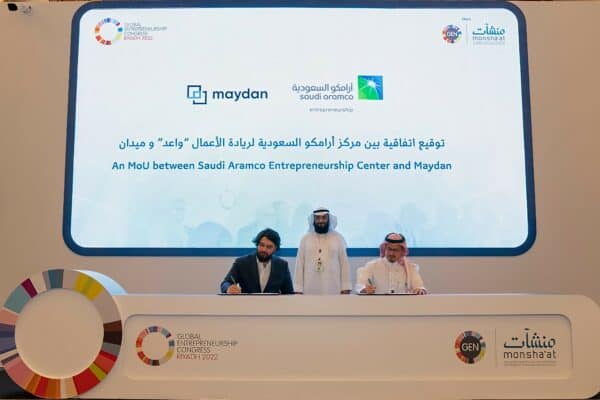 Wa'ed Ventures, the VC arm of Saudi Aramco Entrepreneurship Center, has signed a Memorandum of Understanding (MOU) to provide "ethically focused Fintech startups" with access to investment in the Kingdom of Saudi Arabia.  Maydan Capital, an investment platform based in the UK, has been enlisted to enable the project.
According to a release, the MOU was signed at the Global Entrepreneurship Congress in Saudi Arabia.
Muhammad Zeeshan Hassan, Chief Investment Officer of Wa'ed Ventures pointed to the shift toward the globalization of Fintech:
"…this strategic partnership will allow early-stage Saudi fintech startups to leverage the global experience of the Maydan team in ethical investment."
Maydan is said to be offering its members the opportunity to co-invest alongside Wa'ed Ventures into Saudi-based startups.  The goal is to boost the growing startup ecosystem in Saudi Arabia and create a world-class hub that is focused on championing companies that seek ethical and inclusive financial services.
Safdar Alam, CEO of Maydan, stated:
"This is an exciting partnership that is a win-win for both parties, as well as consumers that will ultimately benefit from the next generation of ethically-focused fintech firms that we back.  More than ever we need to prioritise a more sustainable sector and the only way to achieve this is by collaborating with organisations that share our vision for the future.  We look forward to working closely with Wa'ed Ventures to find the best talent and shape a better financial services sector that reflects the morals and values of consumers."
Sponsored