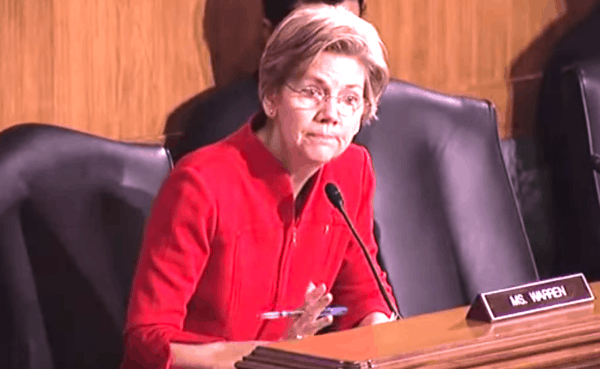 Senator Elizabeth Warren and Senator Tina Smith have sent a letter to Abigail Johnson, CEO of Fidelity Investments, taking her to task for allowing investors to include Bitcoin in their retirement accounts.
Late last month, Fidelity announced the move claiming its workplace Digital Assets Account (DAA) is the first offering of its kind that will enable individuals to have a portion of their retirement savings allocated to Bitcoin through the core 401(k) plan investment lineup. Microstrategy, a large Bitcoin holder, immediately announced it would allow its employees access to the program.
At that time, Dave Gray, Head of Workplace Retirement Offerings and Platforms at Fidelity Investments, explained:
"There is growing interest from plan sponsors for vehicles that enable them to provide their employees access to digital assets in defined contribution plans, and in turn from individuals with an appetite to incorporate cryptocurrencies into their long-term investment strategies."
Apparently, the two Senators believe investors should not have the option to include Bitcoin in their 401ks as crypto is too risky, a "speculatie gamble."
The Senators demanded that Johnson answer the following questions by May 18th:
1. Why did Fidelity ignore DOL's "serious concerns regarding the prudence of a fiduciary's decision to expose a 401(k) plan's participants to direct investments in cryptocurrencies"22?
2. What risks does Fidelity assess that Bitcoin presents to its customers?
a. What are the specific volatility and loss risks posed by Bitcoin, and how will Fidelity address these risks?
b. What are the specific fraud risks posed by Bitcoin, and how will Fidelity address these risks? What are the specific theft risks posed by Bitcoin, and how will Fidelity address these risks?
c. How will Fidelity address the additional Bitcoin risks identified by DOL, including the challenge for plan participants to make informed investment decisions, custodial and recordkeeping concerns, valuation concerns, and the evolving regulatory environment?
3. What fees will your customers incur if they decide to invest in Bitcoin?
4. How much has Fidelity earned from cryptomining activities since the establishment of its mining operation?
5. When Fidelity made its decision to allow sales of Bitcoin in retirement accounts, how did the company address its own conflicts of interest, given that the company now is both a Bitcoin miner and a purveyor of Bitcoin?
Both Senators have long expressed their skepticism regarding crypto. As far as we know, Johnson has yet to respond to the request.
Perhaps the bigger question is whether the US government should be making investment decisions for people and their own money. Bitcoin as an asset class is highly volatile, but if you had purchased BTC three years ago, you would have captured a return of over 300%.
---
Sponsored