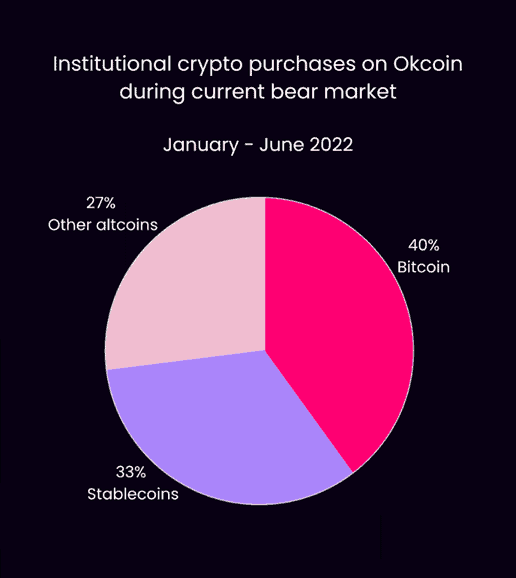 Crypto exchange Okcoin is reporting a 125% increase in institutional trading from Q1 to Q2 2022. Okcoin said this is the fourth consecutive quarter that institutional transactions more than doubled from the prior quarter. Institutional customers jumped by 13% in Q2 and 28% for the first six months of the year.
In the first half of the year, stablecoins accounted for 33% of asset buys and Bitcoin for 40%, according to Okcoin. The platform said that institutions held large Bitcoin positions during that time, with stablecoins accounting for just 6% of purchases during the lowest six-month period whereby the crypto market value declined 70%.
Jason Lau, COO of Okcoin, stated:
"Despite the market downturn, institutional activity on Okcoin continues to reflect increasing crypto interest and greater sector maturity. Whereas in 2018 we saw institutions liquidate their crypto holdings in response to the bear market, nearly all of our clients are seeking greater exposure this time around and taking a longer term view. Further, in 2018, the institutions that did stay in the market focused almost exclusively on trading bitcoin, deeming stablecoins and other altcoins too much of an additional risk. In 2022, they're trading dollar-backed stablecoins almost as much as bitcoin — likely considering them to be 'risk-off' crypto assets, given their lesser volatility."
Okcoin is a US-based crypto exchange that was founded in 2013. The marketplace serves 190+ different countries offering 50 different digital assets.