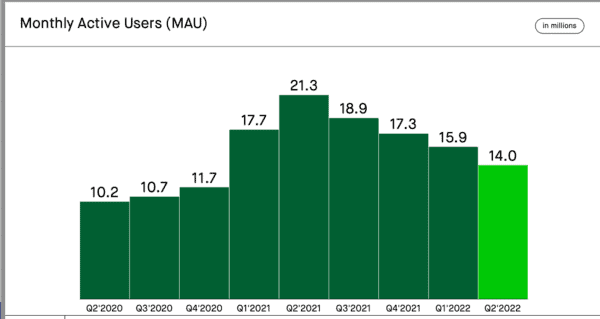 Robinhood (NASDAQ: HOOD) released Q2 2022 financial results that delivered a sequential increase in net revenue of 6% or $318 million, but the slight improvement was not enough to please analysts as it was deemed a miss. Shares in Robinhood were trading at around $9 in after-hours activity, little changed from the close but well off its 52 week high of over $80 a share.
Robinhood reported a net loss of $295 million, or $0.34 per diluted share, compared with a net loss of $392 million, or $0.45 per diluted share in the first quarter of 2022.
Robinhood has encountered a challenging economic environment after several years of robust growth and crypto excitement. The crypto winter and faltering economy has created hurdles for the company that has positioned itself as the social trading platform of the future.
Vlad Tenev, CEO and co-founder of Robinhood, said they continued to make strong progress during the quarter, delivering products that customers will need to navigate rising inflation and higher interest rates:
"With the introduction of Stock Lending, extended hours for trading, improved options offerings, new coins, and the announcement of our non-custodial wallet, we've built an even better and more robust customer experience in the first half of the year and look forward to bringing our customers additional products and services throughout the remainder of 2022," said Tenev.
Jason Warnick, Chief Financial Officer of Robinhood, added that they made important strides during the quarter on both financial and business goals:
"In the second quarter, we were encouraged to see our customers continue to engage with us through the volatile environment. We saw Net Deposits of $5.2 billion, representing a 22% annualized growth rate. Revenues in the quarter were up 6% and we managed our costs down 5%, leading to a $97 million sequential improvement in net loss and a $63 million improvement in Adjusted EBITDA. While the decision to make an additional reduction in force was a difficult one, we believe that it was the right decision and positions us to deliver on our mission of democratizing finance for all."
The trading platforms said that transaction-based revenues decreased 7% sequentially to $202 million, with options decreasing 11% sequentially to $113 million. Crypto bounced a bit, increasing 7% sequentially to $58 million.

Equities declined 19% sequentially to $29 million.

Operating expenses decreased 12% sequentially to $610 million. Operating expenses excluding share-based compensation decreased 5% sequentially to $446 million, which included $17 million of restructuring charges related to the reduction in employee count announced in the spring.

Net Cumulative Funded Accounts were tallied at 22.9 million, a slight increase of 100 thousand sequentially.  Monthly Active Users (MAU) decreased 1.9 million sequentially to 14.0 million for June 2022 and far below its all-time high of 21.3 million.

Assets Under Custody (AUC) also decreased 31% sequentially to $64.2 billion.

Net Deposits were reported at $5.2 billion, or an annualized growth rate of 22% relative to prior period AUC.

Average Revenues Per User (ARPU) increased to $56 from $53 in the first quarter of 2022.

Cash and cash equivalents totaled $6.0 billion at June 30, 2022, compared with $6.2 billion on March 31, 2022.

Robinhood said that despite the challenging environment for crypto it continued to work on this segment In April, the company began to offer crypto Wallets, allowing customers to move their crypto in and out of Robinhood. Robinhood also announced its plan to introduce a non-custodial wallet later this year.

In a separate blog post, Tenev revealed that they are reducing employee headcount again by 23%. Earlier this year, Robinhood announced that it was cutting employees by 9%. Tenev said this "did not go far enough." Simultaneously, Tenev said they are migrating to a General Manager structure for the business lines as part of a restructuring. An all hands is scheduled for Thursday.

Robinhood anticipates cutting full-year operating expenses by 25% to 29%.

The earnings call is scheduled for tomorrow, August 3, at 2 p.m. PT / 5 p.m ET. The earnings presentation is available here.

Sponsored