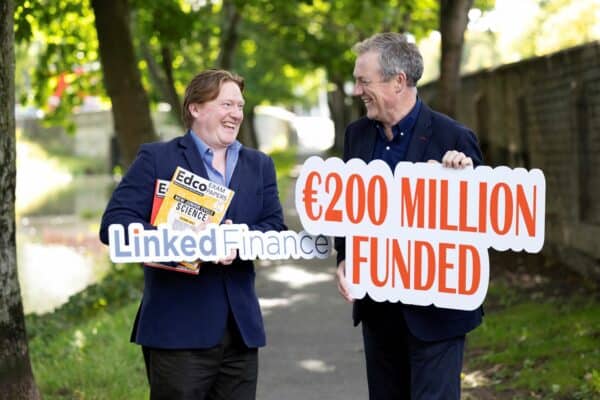 Linked Finance has topped €200 million in online lending in support of Irish SMEs. The Fintech reported that it had doubled its annual lending in less than 2 years.
Linked Finance was launched in 2013 aiming to provide access to capital for Irish SMEs. To date, more than 3,300 small businesses have borrowed from the platform. Linked Finance anticipates it will lend €45 million in 2022, more than double the €19 million lent in 2020, and forecasting up to €100 million in annualised lending in 2024. The company reports that 57% of business loans issued are to repeat customers.
Linked Finance is a marketplace/peer-to-peer lender and investors (lenders) have earned almost €20 million in interest since its inception. On average, investors may expect a return of 8% on a diversified portfolio.
Linked Finance explains its competitive advantage as providing a digital, quick decision for applicants with capital being accessed in less than one day. The company reports strong demand for loans in 2022 and its recent introduction of its new Merchant Cash Advance product, and increasing the maximum loan size to €500,000 in June, is helping to fuel platform growth. Linked Finance also participated in the Government Credit Guarantee scheme in which it deployed over €30 million in loans to businesses impacted by the pandemic.
Linked Finance shared the geographic distribution of loans over the last 9 years, including:
Dublin (€72m),
Cork (€17m),
Galway (€8m)
Limerick (€7m).
Other counties of high demand including those surrounding Dublin – Meath (€10m), Kildare (€10m) and Wicklow (€8m) – also Wexford (€7m), Tipperary (€7m) and Kerry (€5m).
Niall O'Grady, CEO of Linked Finance, commented on the milestone:
"Hitting the €200m milestone in loans clearly demonstrates the success of a simple, fast SME lending model. This is particularly important when the banks are either too slow for SMEs or leaving the country completely. Our platform regularly connects Irish SMEs with retail lenders who recognise their enormous potential and want to invest in them. Linked Finance is introducing new products and increasing limits on existing loans to ensure we stay ahead of the banks. We pride ourselves on providing a model that is efficient and transparent, allowing Irish businesses to take control of their finances and meet their objectives."