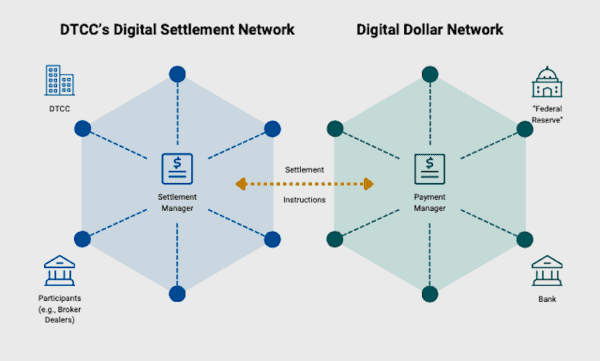 The Depository Trust & Clearing Corporation (DTCC), in partnership with The Digital Dollar Project (DDP) and Accenture, has published a white paper titled "Exploring Post-Trade Security Settlement with a US Central Bank Digital Currency." The paper outlines the findings of a pilot project exploring how digital securities (tokenized) can operate in the settlement infrastructure using a CBDC and distributed ledger technology (DLT).
The firms participating in the pilot include Bank of America, Citi, Nomura, Northern Trust, State Street, Virtu Financial, and Wells Fargo.
The DTCC paper notes:
"Over 105 countries, representing about 95 percent of global GDP and 19 of the G20 countries are exploring CBDC. The European Central Bank (ECB) is currently undertaking a two-year investigation phase of its retail "Digital Euro" project (anticipated to be completed at the end of 2023) and is considering whether new technologies like DLT could improve settlement in central bank money for wholesale transactions. China reports that its digital fiat currency, the eCNY, is held in over 250 million digital wallets and is already responsible for a remarkable 87.5 billion yuan ($13.78 billion) worth of transactions."
As much of the developed world is investigating a CBDC, the DTCC project makes a lot of sense, even though it is yet to be determined if CBDCs, using DLT, will eventually become the norm.
The white paper provides "business implications," including:
A CBDC could enhance operational efficiencies, allowing DTCC to streamline settlement processes.
A DLT-based cash settlement infrastructure where the Federal Reserve is the owner and operator of the network can provide transparency and reporting benefits as an alternative model that replaces and simplifies reporting to DTCC and the Federal Reserve.
CBDC settlement supports a flexible settlement architecture that provides additional optionality to industry participants.
CBDC settlement could provide funding and risk benefits and tradeoffs for the industry.
Jennifer Peve, DTCC Managing Director, Head of Strategy and Business Development, commented on the paper declaring a CBDC should be carefully explored with key stakeholders across both public and private sectors.
"DTCC's pilot with DDP assessed the use of a simulated CBDC and DLT for DvP settlement in the U.S. wholesale markets through direct engagement with market participants. The results of the pilot can help inform market participants and U.S. policymakers about the many requirements related to this new technology and currency paradigm."
While most of the movement of money is already digital, improvements to the system clearly can be made. At the same time, some industry insiders are leery of a government-controlled digital currency as privacy concerns are an issue. Some believe a CBDC is best used in an institutional environment while consumers an businesses gain access to a regulated stablecoin.

Sponsored