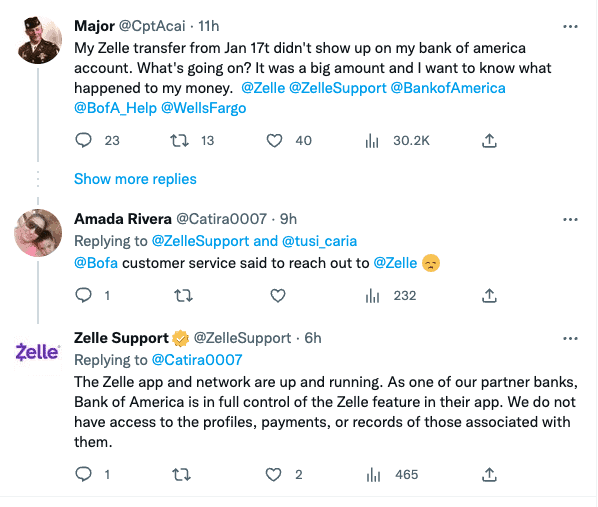 Zelle, a payments and transfers service that was created by multiple big banks, has been having some issues today, according to multiple posts on Twitter. While Zelle has not issued a press statement reassuring users it is on top of things, it appears that Zelle was quick to blame Bank of America (NYSE:BAC).
Zelle Support responded to an impacted user:
"Hi, thanks for contacting Zelle Support. The Zelle App & Network are up & running. We are aware of an issue that is impacting Bank Of America customers when sending & receiving payments. We recommend contacting Bank of America's customer support team for additional updates."
The circular logic garnered sufficient attention to capture the ire of Senator Elizabeth Warren, who Tweeted:
".@BankofAmerica and @Zelle are apparently failing customers again, with money somehow disappearing from accounts. This should be fixed immediately and customers should be compensated. I've called out serious fraud issues on Zelle, and this is their latest failure."
Users are claiming the money has gone missing, and Bank of America appears to be confused about the issue, telling some users to DM them to help resolve the issue.
"I spent 2 hours on hold when $1000 I received yesterday went missing this morning"
I spent 2 hours on hold when $1000 I received yesterday went missing this morning

— John (@Theplaza2119) January 18, 2023
Previously, Zelle has been hit with issues regarding fraud, another topic that has caught the attention of Senator Warren, who is no fan of the Fintech.

Left-leaning advocacy group PIRG Senior Director of its Federal Consumer Program Ed Mierzwinski issued the following statement:

"We put money in the bank to supposedly keep it safe. And with seven major banks in charge of the payment app Zelle, we should be able to rely on that as well. Too many people found out today that's not always the case. PIRG recommends that the CFPB investigate this problem, its cause and the response from both Zelle and Bank of America."

As for BofA and Zelle, they would be better positioned if they publicly acknowledged the glitch adding that they are working hard to resolve all issues instead of hiding on Twitter.

Sponsored