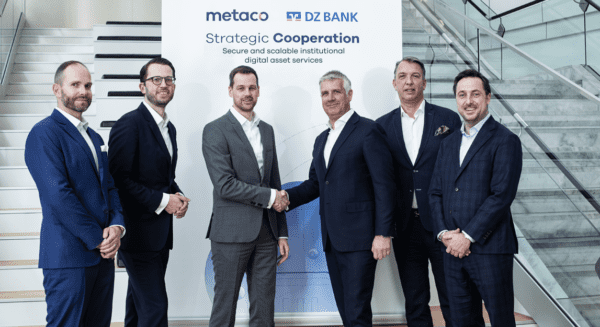 DZ Bank, a Bafin-regulated financial institution, has chosen Metaco to power its digital asset custody solution.
DZ Bank is the central institution of the Volksbanken Raiffeisenbanken cooperative financial network. As a central institution, DZ Bank provides various services, particularly asset management services, being one of the largest German custodians, with €297 billion in assets under custody at the end of 2022.
DZ Bank will incorporate Metaco's custody and orchestration platform, Harmonize, to build a secure offering for institutional clients in for digital securities and digital currencies. This will include tokenized assets like bonds and equities.
Nils Christopeit, Lead Solution Design Digital Custody at DZ Bank, said that Metacoo has proven to offer a powerful solution that is a fit for his organization. He added that with these services, they can build a service that can be trusted to create a "durable and fast-growing business cooperation as well as an attractive solution for our clients that can also meet the requirements of digital currencies and decentralized financial instruments."
Craig Perrin, Chief Sales Officer at Metaco, said their services are designed to support financial institutions to capitalize on the digital asset economy.
Metaco is an enterprise technology company whose mission is to enable financial and non-financial institutions to securely build their digital asset operations. Metaco offers custody and trading to tokenization, staking, and smart contract management. The platform connects institutions to the broad universe of decentralized finance (DeFi) and decentralized applications.