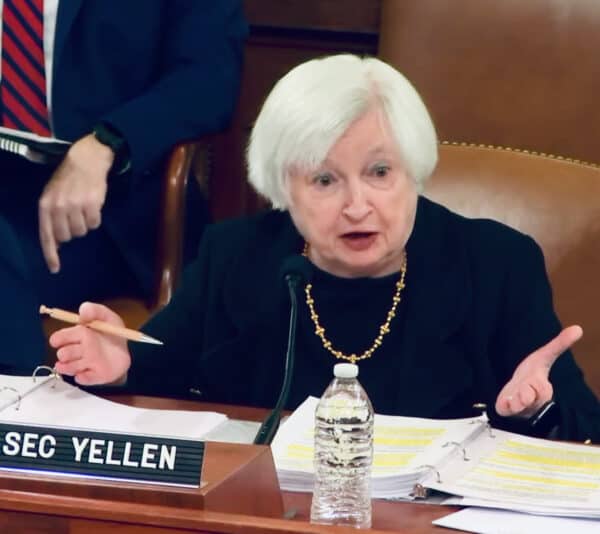 The US Department of Treasury, FDIC and Federal Reserve have joined to protect all account holders at the Silicon Valley Bank (NASDAQ:SIVB), which was taken over by the federal government on Friday. The exceptional action means that accounts holding over $250,000 will have access to their funds.
At the same time, public officials announced a similar action to support Signature Bank  (NASDAQ: SBNY) in New York. Signature Bank was shuttered today by state authorities.
New  York State Financial Services Superintendent Adrienne A. Harris announced today that the DFS has taken possession of Signature Bank, pursuant to Section 606 of New York Banking Law, in order to protect depositors. DFS appointed the FDIC as the receiver of the bank.  DFS noted that it was in close contact with both state and federal officials to ensure stability within the global financial system.
On March 8, Signature Bank issued a statement that reiterated its "strong, well-diversified financial position and limited digital-asset related deposit balances in the wake of industry developments." At the same time, Signature Bank CEO Joseph J. DePaolo said:
"As a reminder, Signature Bank does not invest in, does not trade, does not hold, does not custody and does not lend against or make loans collateralized by digital assets."
Signature Bank is a New York state-chartered commercial bank and is FDIC-insured, with total assets of approximately $110.36 billion and total deposits of approximately $88.59 billion as of December 31, 2022.

A statement was released by Secretary of the Treasury Janet L. Yellen, Federal Reserve Board Chair Jerome H. Powell, and FDIC Chairman Martin J. Gruenberg:

"Today we are taking decisive actions to protect the U.S. economy by strengthening public confidence in our banking system. This step will ensure that the U.S. banking system continues to perform its vital roles of protecting deposits and providing access to credit to households and businesses in a manner that promotes strong and sustainable economic growth. After receiving a recommendation from the boards of the FDIC and the Federal Reserve, and consulting with the President, Secretary Yellen approved actions enabling the FDIC to complete its resolution of Silicon Valley Bank, Santa Clara, California, in a manner that fully protects all depositors. Depositors will have access to all of their money starting Monday, March 13. No losses associated with the resolution of Silicon Valley Bank will be borne by the taxpayer."

The officials noted that equity holders will not be protected, and management will be changed.

A special assessment will be made on insured banks to support the FDIC.

The Federal Reserve Board said will also make available additional funding to eligible depository institutions to help assure banks have the ability to meet the needs of all their depositors.

The action follows rumblings that further banking failures would be forthcoming, with some predicting widespread runs on banks if the government failed to take decisive action. The root cause of the bank runs is due to rapidly rising interest rates by the Fed as it seeks to crush inflation. The rise in rates meant that long-duration assets held on a bank's balance sheets had dropped in value, causing a shortfall in funds available to cover deposits.

It was reported that government officials were looking for a buyer for SVB, but as of this writing, none has been announced.

The dramatic action is designed to reassure individuals and markets that the banking system is sound. If the government had taken no action, additional banks could have suffered similar issues.

Following the announcement, US stock futures rose, indicating markets view the federal action positively.

Sponsored