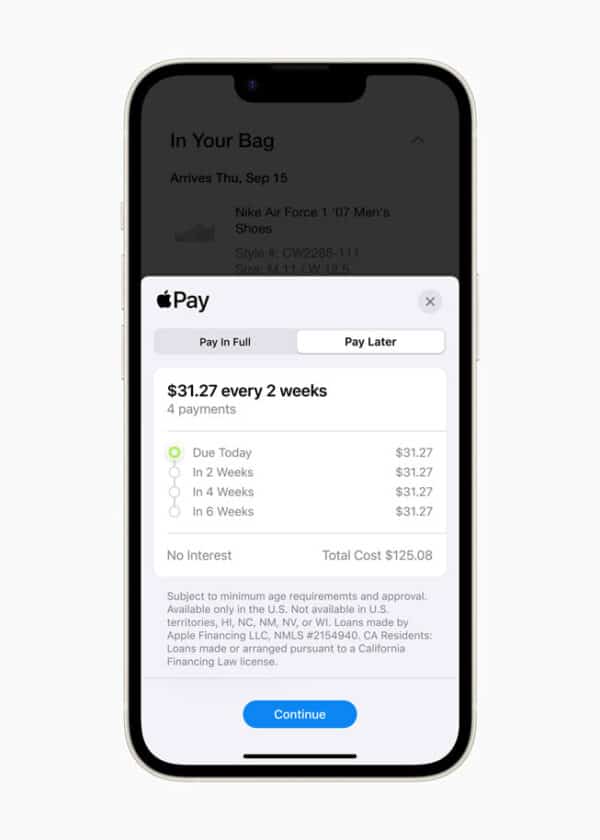 Apple's buy now – pay later service (BNPL) is finally available. Apple Pay Later was announced quite some time ago – but then Apple tends to make certain everything is perfect (or nearly) before launching anything.
In a release, Apple (NASDAQ:AAPL) said that starting today, randomly selected users will be invited to receive early access to a "prerelease version of Apple Pay Later." The BNPL offering will be available in the Apple Wallet and affiliated with the users' Apple ID email. Apple Pay Later is available in the U.S. for online and in-app purchases on both the iPhone and iPad. The service is part of the just-released OS update that is available now (iOS 16.4 and iPadOS 16.4).
Apple states that Apple Pay Later aims to support a users "financial health" and purchases will be split into four payments over a brief period of time – 6 weeks (at least for now.
There are no fees nor interest rate payments which should make the service popular with iPhone users.
Borrowers can track, manage, and repay their Apple Pay Later loans in the Apple Wallet. The BNPL is available for amounts starting at $50 and going as high as $1000. There is no impact on a borrower's credit as there is only a soft credit pull. Users will need to link a debit card to access the loan.
Apple Pay Later is offered by Apple Financing LLC, a subsidiary of Apple Inc., The service is provided in partnership with Goldman Sachs using the Mastercards installment program.
Jennifer Bailey, Apple's vice president of Apple Pay and Apple Wallet, said that many people are looking for flexible payment services and Apple's Pay Later should have consumer appeal with its no fees and no interest payments.
"… managed within Wallet, making it easier for consumers to make informed and responsible borrowing decisions."
Apple Pay Later is another step in Apple's Fintech future which is expected to offer other bank-like features, including longer-term loans (with an interest rate) and an Apple savings feature so cash can generate some income – again, offered in partnership with Goldman Sachs.

Over time, expect Apple to look more like a digital bank, a strategic move that makes a lot of sense. People do not want to tap into multiple different financial services. They want just a few, and the Apple Digital Wallet is the perfect feature to manage a growing number of consumer financial services. In a world with banking turmoil, expect Apple's Fintech offerings to become quite popular.

Sponsored