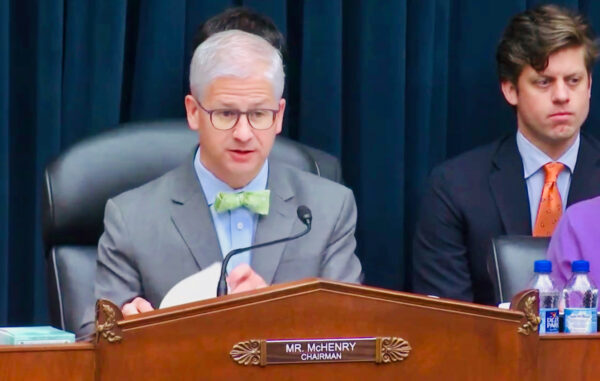 As CI reported yesterday, the House Financial Services Committee has scheduled a markup session for pending legislation. Many of the proposed bills are designed to improve access to capital as well as improve JOBS Act rules.
In a statement in advance of the meeting, Congressman Patrick McHenry, Chairman of the Committee, commented on gathering that will consider legislation that "strengthen public markets, help small businesses and entrepreneurs, and create opportunities for all investors."
McHenry said that, as he stated last year, he is determined to strengthen and expand access to capital markets as Chair of the Committee.
McHenry stated:
"Many of the bills we'll consider today are bipartisan and I look forward to moving those to the floor immediately. I would encourage Members to look at the remaining bills. They contain commonsense policies that will encourage everyday investors and small entrepreneurs to access our capital markets. These are bills that would strengthen our crowdfunding rules to encourage greater use. These are bills that support micro-offerings and the gig economy. They would expand angel investing and the accredited investor definition to help more Americans build wealth. In other words, these bills can make a difference in the life of someone in every single one of our communities."
The Committee will be reviewing 15 bills. Of note is an update to the definition of an accredited investor that aims to rationalize the current definition, which disenfranchises the vast majority of Americans. While this contravenes the desire of the SEC, there appears to be bipartisan support to improve the definition and remove the current discriminatory status.
The Expanding Access to Capital Act of 2023 aims to legalize a micro-exemption, increase the funding cap of Reg A to $150 million, define Finders, and more.
Another big push will be to legislate new accountability rules for the Consumer Financial Protection Bureau (CFPB) – a relatively new agency that has been engulfed in controversy from its inception.
McHenry highlighted the bipartisan nature of the legislation – something that occurs too infrequently in Congress. McHenry said:
"…we accomplished something that very few Committees on the hill have done this year; we [Democrats and Republicans] agreed on a lot!
Sponsored