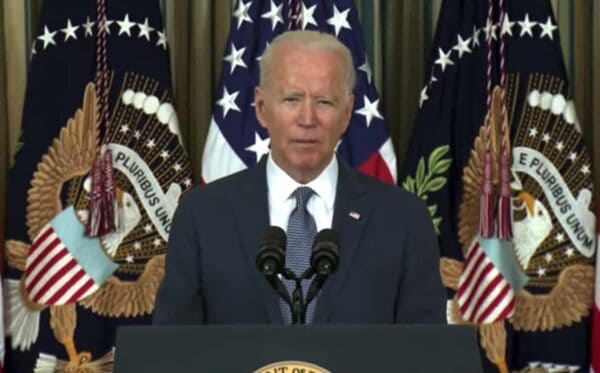 The Small Business & Entrepreneurship Council (SBE Council) says the Biden Administration is falling short in its support of small businesses and entrepreneurs.  The group says Biden's policies receive a failing grade from business owners. Meanwhile, a "self-generated report" by the Administration that gives itself a "glowing report card" ignores facts.
The SBE Council's Small Business Checkup Survey indicates that 70% blame the Biden Administration for current inflationary problems, with 73% reporting that inflation is having a negative impact on their firms. The survey was conducted April 18-21, 2023.
The survey is non-partisan, with business owners spread amongst different parties as follows: 33% Democrat, 31% Republican and 33% Independent.
The majority are highly concerned about the future of the economy, with 85% expressing concern about a recession or economic slowdown in the coming months.
SBE Council president & CEO Karen Kerrigan said:
"Financial and operational vital signs are unsteady for many small firms. Flooding the system with more government spending, risky loan programs, and policy proposals that raise costs and create new burdens is not the right policy mix when it comes to building confidence and success for small business owners. Almost every key finding of our checkup survey finds that Biden Administration policies are intensifying the pain points of small business owners."
The findings of the Survey include:
● 54% say it is harder to find/obtain capital than it was six months ago.
● 44% report that a "credit crunch" is having a negative impact on their business.
● 55% of business owners agree that the labor shortage/access to skilled workers is hampering their firm's operating capacity.
● 55% report that business revenues have not kept pace with inflation.
● 57% are cutting back on business spending.
Biden's Grade by Category:
● Overall Performance: 51% poor/unacceptable
● Handling of the economy: 56% poor/unacceptable
● Taxes: 49% poor/unacceptable
● Regulation: 45% poor/unacceptable
● Government spending: 53% poor/unacceptable
● Immigration policy: 50% poor/unacceptable
Top Issues of Concern for Small Business Owners include:
Inflation (57%),
Recession/Slowdown (29%),
Economic Uncertainty (29%),
Gas Prices (26%),
High Taxes (22%),
Rising Interest Rates (21%),
Supply Chain Issues (20%).
External/Economic Conditions Impact on Their Small Business:
● Inflation impact: 73% somewhat/very negative
● Rising interest rates: 60% somewhat/very negative
● Energy costs: 58% somewhat/very negative
● Supply chain disruptions: 48% somewhat/very negative
● Credit crunch: 44% somewhat/very negative
● Labor shortage/Access to skilled workers: 40% somewhat/very negative
Kerrigan adds that Biden touts a record level of new business applications but these applications are simply intentions to start a business. Under uncertain economic conditions, many aspiring entrepreneurs will hold back. She believes a possible entrepreneurial boom could be destroyed due to bad economic policies.
"When you crunch the numbers, the potential fallout should scare elected officials. Twenty-five percent of the 32 million small businesses in the U.S. represents a lot of small businesses at risk. That's 8 million local businesses. And the 4% who rate their chances as poor, means that just over 1.2 million businesses may fail. That's not good news. The policy ship needs to do a total 180 before it's too late for countless small businesses and our economy," said Kerrigan.
Sponsored