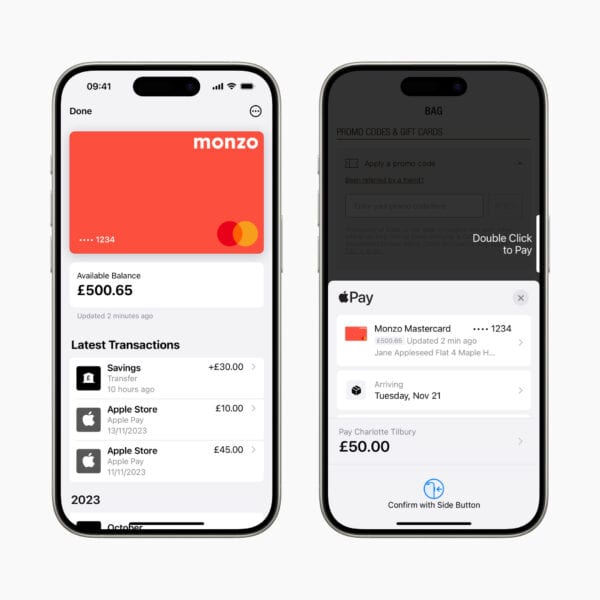 CI previously reported on Apple (NASDAQ:AAPL) leveraging the UK Open Banking ecosystem to connect bank accounts with their popular digital wallet. Today, Apple is officially announcing the service that aims to provide users access to financial information more conveniently.
The UK has led the global pack on Open Banking or Open Finance. Establishment financial services firms are required to offer customers access to services, typically via APIs, to connect accounts, migrate accounts, or to manage their data. Crucially, the customer controls their financial data, which cannot be used without their approval.
By incorporating Open Banking services, Apple Pay users in the UK may connect their accounts to eligible debit and credit cards in the digital wallet and access information like up-to-date debit card balance at the time of purchase.
Jennifer Bailey, Apple's vice president of Apple Pay and Apple Wallet, said UK users may now be able to make better informed financial decisions by viewing balances in the wallet.
"We look forward to working with U.K. partners under the Open Banking initiative to help users better their financial health, and provide more ways in which banks can deepen their relationships with customers."
Users are also able to view their debit card account details, as well as debit and credit card spending history, payments, deposits, and withdrawals, in the Apple Wallet. Users must have installed the most recent version of iOS (17.1).
Apple is working with both legacy financial services as well as native Fintechs, including Barclays, First Direct, Halifax, HSBC, Lloyds, M&S Bank, Monzo, NatWest, and Royal Bank of Scotland (RBS).
Expectations are for a similar service to roll out in the US and other markets over time. If you have an Apple Card and Apple Savings in the US, you can see how the service works now.
As for Open Banking in the US, this sector of Fintech has taken a more market-driven approach, but the Consumer Financial Protection Agency has proposed rules to guide the development of Open Banking.
Apple shared that the Apple Wallet is now available in 70 markets around the world.