I am a tech junkie constantly lurking the pages of the umpteen different tech sites hunting down the "next big thing".  Crowdfunding has turbo charged the creativity and innovation in the tech world.  Now the market analysis is completed prior to product launch.  The customers are your most important PR firm and sales lined up before mass production has occurred.  Of course your tech concept must be a crowdfunding success first.  And I have seen more than a few great ideas that have not quite made the campaign goal.
Unequivocally crowdfunding sites like Indiegogo, Kickstarter, RocketHub and many others have generated a new degree of innovation in the tech world.  So I am going to focus on a few cool items now.
Fitness Bracelet: Amiigo
Yep I am a fitness freak.  Not in the way that I am doing Iron Man runs every morning but unless I get my activity fix, I just don't feel quite at my peak.  Sitting in front of an iPad, iPhone, iMac, Mac powerbook all day long does not quite qualify as a physical work out. Rather the contrary.  So when I see something that combines tech and fitness I have to check it out.  Enter Amiigo fitness bracelet.  Yes there are more than a few others that accomplish a similar goal but, you have to admit, this is pretty cool.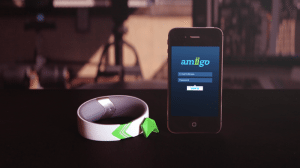 Amiigo provides a more personalized fitness tracking experience because we can detect exactly what you are doing and how your body is responding. For example, Amiigo can determine whether you're using the elliptical, running, swimming, doing bicep curls, squats, etc. Amiigo can track & identify over one hundred different activities and then correlate these activities with physiological information such as heart rate and blood oxygen saturation.
Crowdfunding now on Indiegogo:  Goal $90,000.00.  Raised over $136,000.00.  41 Days left.  Cost to get in $99.  Estimated delivery June 2013.
Gotta know:  Hey along with gym memberships, tech fitness jumps after January 1.
Replace Your Keyboard:  Swyboard Keyboard
I walk around like Elliott Carver (you know James Bond Villian) with my iPad in hand typing away.  I am pretty good without the tactile response of an actual keyboard and I love the touch pad.  So why not combine the two?  Voila!  Enter the Swyboard!
QWERTY keyboard has changed very little since inception, and is the standard for use with personal computers including desktop and laptop versions.  Used in conjunction with a mouse or other device, keyboards effectuate many functions.  However there are many limitations….there is a need for a multifunctional touchscreen interface system that is simple and intuitive to use.  It desirably facilitates QWERTY and SWYPE typing, and incorporates some familiar touchscreen operations such as swiping, pinching and tapping. It is desirable that this device acts as a second monitor, allows a variety of configuration changes and smart-keys, and provides touch-interaction with programs. 
Crowdfunding Now on RocketHub: Goal $10,000.00.  Raised only $585.00.  78 Days Left.  Cost to get one $500.00.  Estimated Delivery. Uncertain.
Gotta know:  Device could act as a second monitor
Home Security:  iSmart Alarm
For those of you tired of spending the monthly toll for a security system which is only used occasionally to wake up your neighbors this may be the answer.  With iSmart Alarm you buy the system and you take the calls.  No need to wait for the polite lady to call you with your code (which you have forgotten of course).  You take the call or the text.  Teen age son or daughter likes to extend curfew by sneaking out at night?  Bingo!  Photographic evidence!
There are lots of options for home security services and "smarthome" products, but what we have always noticed is that a) They usually come with long-term contracts and monthly fees, b) They are expensive to buy and to have installed, and c) The amount of actual "control" the user has is limited by whichever big corporation makes the product and runs the monitoring center…We love technology, and we need safety.  We don't want to pay for monthly monitoring center or service fees, and we have no interest in signing 3-year contracts.
Crowdfunding Now on Indiegogo: Goal $100,000.00. Raised over $20,000.00.  35 Days Left. Cost to get one multiple price points but the Deluxe Package at $169.00 looks pretty good.  Estimated Delivery.  April 2013 (or not soon enough for parents with teens).

Gotta Know:  Really cool aesthetic.  You will need to call the police.  Not the lady. And teens will take countermeasures immediately.

Have a crowdfunding offering you'd like to share? Submit an offering for consideration using our Submit a Tip form and we may share it on our site!

Sponsored Links by DQ Promote