Recently a superlative document was published by the Milken Institute which reflected upon the current state of crowdfunding domestically within the United States but also drawing on parallels abroad.  This missive was authored  by Messrs.  Chris Brummer, a law professor at Georgetown University and Daniel Gorfine, the director of special projects at Milken and their legal counsel.  Both of these gentlemen have been supportive of the effort to legally allow equity crowdfunding in the United States.   Titled "Crowdfunding: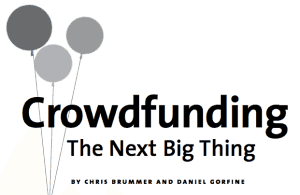 The Next Big Thing" it  is a thoughtful, evocative discourse on the disruptive force of Crowdfunding and the potential possessed once unleashed.  For any Crowdfunding industry participant this is a must read.  On these pages we would like to touch on some of the important points addressed by Brummer and Gorfine.
As most individuals will understand today,  small business is a very important engine of economic growth in this country.  This point has been addressed on these pages multiple times in the past.  In fact,
 "Small business employs over 40% of the US labour force and provide a disproportionate amount of job growth".
While acknowledged as fact, Small businesses,
 "face a daunting financial challenge" in raising capital.  Still today "60% are financed with personal savings and 35% are using credit cards".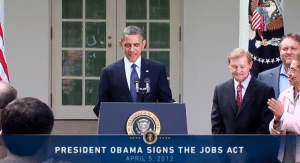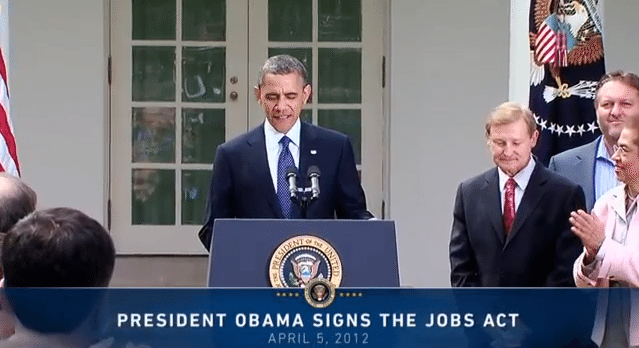 This is astounding in the degree of inefficiency in capital allocation to fund new ventures.   Fortuitiously our elected officials recognized these inefficiencies inherent to this process and signed into law the Jobs Act of 2012.  This piece of legislation, after some regulatory wrangling, will legalize equity crowdfunding which will address some of these challenges.
Any student of Crowdfunding is aware the United States is not alone in its quest to create a more dynamic, and effective form of capital allocation for our dearly needed start ups.  It may be surprising to know that our brethren across the atlantic have already ventured down the path of equity crowdfunding in various forms.  One may argue the European need is greater, in light of their struggling economies which has pushed them to the forefront, but today finance is global and the United States needs to embrace this concept for growing businesses.
The United Kingdom, The Netherlands, and yes even France, have plowed forward launching innovative crowdfunding platforms which have delivered different degrees of success.  Addressed by Messrs. Brummer and Gorfine are the platforms, CrowdCube (UK), Symbid (The Netherlands) and WiSeed (France).  In Australia there is the Australian Small Scale Offerings Board.  There are also emerging Crowdfunding platforms operating which offer debt instead of the equity approach.
As part of the regulatory discussion the potential for fraud is never far from the discourse.  Yet there is much to learn in the empirical data generated by these crowdfunding leaders.  While each platform is only in the early stages of their evolution, the most mature of the bunch CrowdCube has not experienced one bit of fraud.  This is not to say that fraud will never occur but to date the crowdfunding process has worked well.
The document is an advocate for enveloping accredited investors with the un-accredited masses.  Integration or as they label it "coupling" brings several advantages which may benefit equity crowdfunding.  Sharing risk across the various types of potential investor is but one advantage.
"Entrepreneurs and portals should be encouraged to couple crowdfunding with investments from accredited investors.  The crowd would benefit from the due diligence and management expertise of more sophisticated investors, who in turn would benefit from project validation, risk sharing, marketing and feedback from the crowd."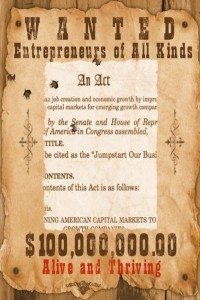 The portals would benefit as well as this would effectively allow for greater funds raised and thus more in fees.  The entrepreneurs in need of a greater amount than the, somewhat arbitrary, $1 million would then have access to larger sums.  The non accredited investor would then gain access to offerings previously denied.  This approach has merit and should be pursued.  If this does not occur the fear is the "democratization" for investors may not be allowed to occur.

As it appears the regulatory brigade will miss the designated deadline there are still many unanswered questions.  Messrs. Brummer and Gorfine share sage advice in pursuit of allowing this disruptive innovation come to life and bloom.  Yes there will be entrenched opponents poised to protect their sacred domains but in the end one must remain confident that common sense will reign.   Allowing Crowdfunding to facilitate a new surge in entrepreneurism and creativity will most certainly be to the benefit of us all.

Sponsored Links by DQ Promote