Clayton Christensen is a business thought leader who is standing on the shoulders of some of the great economists of our times.  Schumpeter, a Professor of  Economics at Harvard, focused on the importance of entrepreneurism to modern economics.  But it is Christensen who applied Schumpeters basic thesis to the empirical experiences of contemporary business.
In his seminal work Disruptive Innovation, Christensen discusses how successful businesses frequently are the makers of their own undoing.  He provides a plethora of examples.  Grand companies enjoying the fruits of labor won powering forward like an aircraft carrier in mid Atlantic.  But then along comes a competitor.  One that is targeting a segment of "their" business which the much larger company is simply not willing to allocate the capital to defend.  Why should they?  It is such a small portion of their business. Certainly the expenditure made will never return quite like their grand, more significant business line does today.  And yet something occurs where this much smaller business slowly grows and erodes the underpinnings of the old grand business until one day that small, insignificant business dominates the old way of doing things and the old business is no more.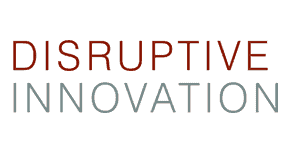 There are many examples of this phenomena today.  When is the last time you went to Blockbuster Video?  Tower Records? Or used a gas lamp for that matter?  Students of Christensen can provide many more examples.
Innovation occurs. Be it sustaining, evolutionary or revolutionary.  Industry must embrace innovation to survive and continue to add value for their customers.  Otherwise the customers leave.  Have you looked at the newspaper industry recently?  The morphine of monopolistic practices allowed this industry to be devastated by the revolutionary technology of the internet.  The industry of finance is about to embark on an enormous shift in capital allocation and funding for business.  I  suggest they embrace this new technology because, as history proves,  one must change and adapt or one will simply whither away.
Recently Christensen spoke at the World Economic Forum where he discussed three types of innovation:  Empowering; Sustaining; Efficiency.  Yet it is only Empowering Innovation which creates new jobs.  The other two increase productivity.  He states "capitalism seems uninterested in capitalism".  Continuing this thought, "the heart of the paradox is a doctrine of finance employing measures of profitability that guide away from investments that create growth".  Business today operates in an environment where capital is not scarce.  The balance sheet of corporations are awash with cash.  Yet they are not investing in growth opportunities or empowering innovations.  Regulations and uncertainty do play a significant role.
So if corporations are unwilling to finance the next big thing because risk is to great,  or to invest in a business which may not pay off for years to come,  what will be the source of capital to finance fledgling industry?  This is where crowdfunding will play a significant and lasting role in wealth and value creation.  Perhaps once large corporations see the power of the crowd, maybe then they will start to invest once again.  Christensen is already leading the way on crowdfunding by taking a stake in CircleUp.  Will corporate America follow his lead once again?

Sponsored Links by DQ Promote