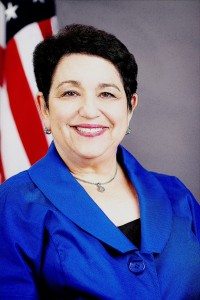 About a dozen crowdfunding and venture capital representatives and small-business advocates last Tuesday urged Securities and Exchange Commission Chairman Elisse Walter to propose rules for crowdfunding.
A type of financing that lets small investors buy equity or debt in startups over the Internet, crowd funding is among several provisions of the
Jumpstart Our Business Startups Act
— signed by President Barack Obama last April — designed to ease securities registration rules for entrepreneurs.
The SEC has not yet proposed a crowd-funding rule, which was due in January. It is one of several JOBS Act rules that have fallen behind schedule.
"Chairman Walter has the ability to call forward these rules for public comment," Candace Klein, founder and chief executive of SoMoLend, said at a National Press Club press conference. "As an industry, we are being as proactive as we can to answer the SEC's concerns about investor protection."
Supporters of the act, which was approved by large bipartisan majorities, contend that it would help spur economic growth and create jobs by providing capital to small businesses. Skeptics, including state regulators, warn that diluting registration requirements could harm investors. They want the SEC to add more protections.
Read More at Investment News