I recently had an opportunity to tour the inner workings of ProHatch's crowdfunding system, and the approach they've taken to raising money may be more in line with how entrepreneurs start and build businesses.
As of right now ProHatch is a donation-based platform, but they plan to participate on the equity side once rules are finalized. Those seeking to start donation or rewards campaigns can launch projects now. Those interested in equity can pre-register.
ProHatch's approach to fundraising is something they call Phase-to-Raise. The strategy places increased focus on the deliverables of a business and aims to maximize transparency throughout the fundraising process.

Campaigns on the ProHatch platform raise in phases. One phase may focus on one specific deliverable or goal depending on the nature of the business. Each phase requires 3 post-funding milestones to be established prior to soliciting donation or investment. Those milestones take the form of a deliverable photo, narrative or video.
Each of these milestones associates directly to the uses of capital in that phase. In this way project backers are able to very clearly see where their funds are allocated. If costs seem inflated it may raise a red flag for backers, or it may encourage them to seek efficiencies within their own networks and pass those tips to the project creator. Comments are threaded to allow for clarity in communication with backers.
Once one phase is funded and milestones are met, the project moves to the next phase of funding.
For reward campaigns incentives are allowed to change per phase as well, giving the project creator quite a bit of control over how the campaign is structured.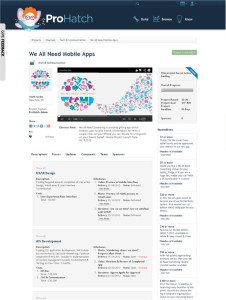 ProHatch also places a strong focus on video. Project creators can add video at any point during their campaign. It is a preferred means of communication on the platform.

Last week ProHatch launched it's 2013 Online Crowdfunding Incubator Program. ProHatch founder Liz Kulik says the program will help interested entrepreneurs make an informed decision about crowdfunding. "Entrepreneurs will be able to join us for three information packed hours over three days, and get a wealth of expertise and insights from business and crowdfunding leaders, as well as learn if donation, reward or equity based crowdfunding is right for their business," she said.

Registration includes free access to a step-by-step guide that shows campaign creators how to effectively market their campaigns.

You can register for ProHatch's incubator program by signing up on their web site at http://incubator.prohatch.com. Registration will be available until March 15th.

Sponsored Links by DQ Promote