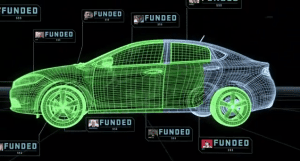 The Dodge Dart Registry is an interesting angle on crowdfunding – where the crowdfunding is more marketing than a fund raising tactic.  The platform, powered by RocketHub, currently has over 6000 "registrants" listed on the site.  Registrants are individuals who have created their car, similar to a bridal registry, and now are soliciting friends, family and strangers to purchase "parts".  Eventually you can end up with an entire car.
Chrysler Corporation certainly deserves credit for their creativity with this marketing approach.  Awareness is pretty high but it is not clear as to the overall success of this marketing campaign.  In reviewing the site there were no "Registries" completed or fully funded out of the 6000 registrants.  There were more than a few cars with zero days left and barely any funds raised.
One relatively successful effort was from a fraternity from USC which was offering up the vehicle as a charity effort for Meals on Wheels.  The ZBT Fraternity had garnered 118 sponsors with only a 22 parts remaining to build the car.
Any revenue raised, ostensibly for a Dart, may actually be used in any way the recipients desires (the maximum amount which can be raised is $30,000).  As stated on the sites FAQ:
Do I have to buy a Dodge Dart with the Money I raise?

Not necessarily. While the money can be used for anything, the people who helped you fund the vehicle you promoted would be disappointed to not see you driving a shiny new Dodge Dart on the road.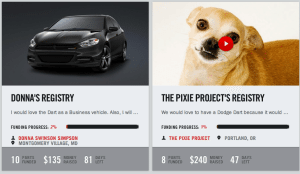 So the real benefit for Chrysler – and the Dodge Dart – are the thousands of individuals building their Dream Dart and then emailing, tweeting, sharing it with their families and friends.   From a marketing pitch this is probably money well spent.  Anyone can waste thousands on Google AdWords.  So even if no cars are ever built from the site- and the way cars are bought is not permanently changed –  the Dodge Dart probably scored a big hit in promoting their brand.

Sponsored Links by DQ Promote