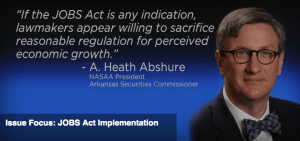 During a news conference at the National Press Club, the North American Securities Administrators Association (NASAA) President and Arkansas Securities Commissioner Heath Abshure and Steve Irwin, NASAA President-elect and Pennsylvania Banking and Securities Commissioner, also outlined five specific areas in which they will seek Congressional action in the 113th Congress.
Abshure and Irwin said NASAA actively will seek legislation in four specific areas, including legislation to:
authorize the SEC's Of f ice of Compliance Inspections and Examinations to collect user f ees f rom the investment advisers it examines;

permit reasonable civil recovery for fraud associated with crowdfunding and other small offerings;

strengthen investor protection provisions weakened by the JOBS Act to minimize the Act's enormous potential for abuse; and

empower state regulators to curtail the use of mandatory pre-dispute arbitration clauses in contracts between state-registered investment advisers and their clients.
NASAA also is calling on Congress to investigate opaque market activities, including those of "dark pools," hedge funds and high-frequency traders.
It has been reported the NASAA is also pushing for victims of crowdfunding fraud to be able to file class action law suits,  from the pages of InvestmentNews;
The NASAA also is encouraging lawmakers to introduce legislation that would permit victims of so-called crowdfunding to file class action suits.

That type of financing, which involves selling securities over the Internet in small increments to nonaccredited investors, is allowed under the Jumpstart Our Small Business Startups Act. The JOBS Act was signed into law almost a year ago, but the SEC has not yet proposed a crowdfunding rule.
The NASAA has consistently been skeptics regarding the efficacy of crowdfunding.

Sponsored Links by DQ Promote