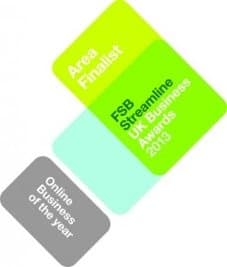 Equity Crowdfunding site
Crowdcube
 has announced they have been selected as a regional finalists for the Federation of Small Businesses and Streamline awards in the Online Business category. According to the Federation of Small Businesses, "the prize will be awarded to the business that can show that its online performance in 2011 and 2012 makes it stand head and shoulders above the rest."  The
Federation of Small Business (FSB)
 has about 200,000 members in the United Kingdom.The FSB is the UK's largest lobbying group that protects the interests of the self-employed and owners of small firms.
 The FSB Streamline Awards is a new national initiative to promote and celebrate innovation and success in small businesses across the UK.  The Awards Ceremony will be held

in London in April where the National Category Winners will be announced. National Category Winners will not only win the prestigious award title but will receive £4500, a trophy, a publicity drive and a professional marketing and PR consultancy package to promote their success. From the four national award winners, one will go on to become the FSB Streamline UK Business of the Year and receive an additional £5000.