Crowdfunded game console Ouya has revealed their pricing and ship date on their site.  The price is set at $99.99 with an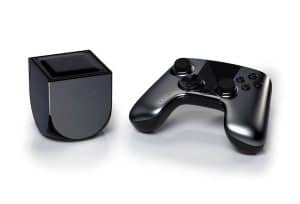 additional controller priced at $49.99.  Along with selling their product directly, several national retailers have signed up to push the product.  Ouya raised over $8 Million on Kickstarter on a stated goal of $950,000.  The massive success brought greater attention to crowdfunding in general the possibilities for future opportunities.
The Ouya game console offers every game for free to try.   Any developer may access the development kit to create their own games for the platform. Currently over 100 games are available.  Similar to other products on the market Ouya is partnering with 3rd parties to provide streaming video, music and other services.