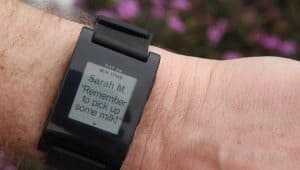 Back in September, Kickstarter felt the need to post an update stating that "Kickstarter Is Not a Store". In it, the crowd-funding and project-launching phenomenon laid out a few new rules, clarified its mission a bit, and generally reinforced the key point in the headline: you back projects, you don't buy goods.
I note this here because I wrote two reviews of the Pebble "smartwatch" last month–oneafter three days of use, one after a week. Summarizing them, I thought the Pebble was an interesting idea that was in its earliest stages, but perhaps useful only to those who felt they really had a problem catching just the right notifications from their smartphone.
And then my Pebble watch stopped working. I tried everything the Pebble team suggested, I plugged my possibly faulty charging cable into every kind of USB power source in my house–nothing. But I tried to keep perspective. I wrote this in the Fast Company piece about Pebble and my bricked watch:
I felt a pang of sympathy for the Pebble team, which is trying to sell a disruptive piece of near-future tech in an early-stage form, to customers who want both a revolution and a reliable product. It's a tough market.
Today, I realized it's not really a market at all.

Sponsored Links by DQ Promote