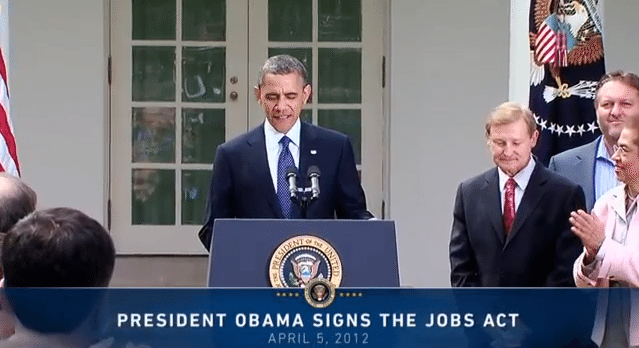 Today is the one-year anniversary of the signing of the JOBS Act.
The JOBS Act is an extremely ambitious piece of legislation that aims to rework and rewrite regulations that have been in place for the better part of a century.
This is especially true of Title III, which does nothing less than create an entirely new asset class. There are some seriously complex things to consider in Title III's implementation. What constitutes general solicitation in an internet-enabled world? Can companies disclose information via social media, and if so how do investors know where to look? How do you encourage investor protection while involving the internet, which in some instances looks and feels like a hyperbole dispenser?
These aren't small bites. I'm sensitive to that fact.
Having said that, the reality is that one year ago entrepreneurs from across the country saw the opportunity that the JOBS Act put into motion, dropped what they were doing and dove in head first. They pooled investment, established infrastructure and have worked hand in hand with the SEC in an effort to see this law through to implementation.
Their mission is to help entrepreneurs build companies, but we shouldn't forget that they're entrepreneurs themselves.
One thing everyone should know about the semi-dormant investment crowdfunding industry is that it is full of extremely smart, capable folks. The act of creating an investment crowdfunding portal is very much a multidisciplinary endeavor. These are tech companies, financial service companies and social networks all rolled into one. Talk to portal leadership and you'll be amazed to hear the experience that has pooled in this industry.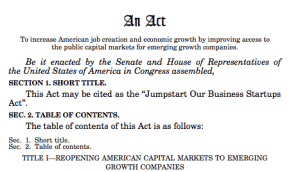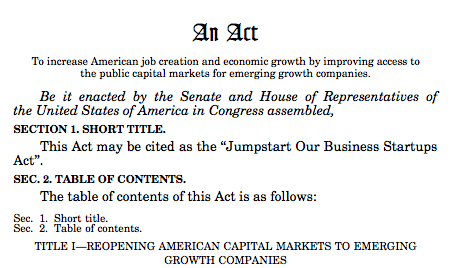 Now we seem to be in a perpetual state of flux. The SEC's chairmanship is about to see its second new face since April 5, 2012. Certain special interests continue to voice their concerns and displeasure with the bill. Ask ten people when investment crowdfunding will be legal and you're likely to get ten different answers. I've personally heard everything from 6 months to two years or more.
It's sad. It's sad because in our hyper-partisan world, the JOBS Act was one thing everyone seemed to agree on, passing with the support of a vast majority on both sides of the aisle.
A year later we're still waiting. Meanwhile, the portals burn money.
Jilliene Helman, Co-founder and CEO of Realty Mogul, explains the reality of waiting for Title III.
I've spoken to a number of our competitors who are like "Yeah, you know, we're waiting, we're going to do $100 transactions with non-accrediteds," and they're burning money. They quit big jobs. Most of the CEOs of crowdfunding companies… come from really big financial services backgrounds. They were making good money.
A while back I wrote about the opportunity we have to apply agile government methodologies in implementing the JOBS Act. One year after the passage of the act, I'm reminded of why it's so important to move quickly and iterate. It would be a shame to lose good, capable entrepreneurs to their respective burn rates while regulators sit on their proverbial hands. They should be afforded the opportunity to capitalize on the opportunity investment crowdfunding provides.

Sang Lee of Return on Change points out that the market will be the best indicator when it comes to best practice going forward. "While comprehensive regulations are important to protect investors and startups, execution and the timely evolution of best practices is as important if not more so," Lee said. "Time is value here and the delay of the regulations further delays the evolution of these best practices which may ultimately have wider implications for market protections."

Yes, Title III is a huge challenge. Yes, the act landed on the SEC's plate with no additional funding. However, the rumor is that the rules have been drafted for months. Regardless of the reasoning of further delays, I think it is time we start to consider the opportunity cost.

It is time that we move forward. The best resource investment crowdfunding could ask for is its people, those entrepreneurs that took the leap of faith and bet big on a new asset class. Those bets were based on the timeline contained in a law passed in the United States Congress. We should act in the spirit of the law, and further delays hardly seem to be consistent with that spirit.

The operative word is Act.

Sponsored Links by DQ Promote