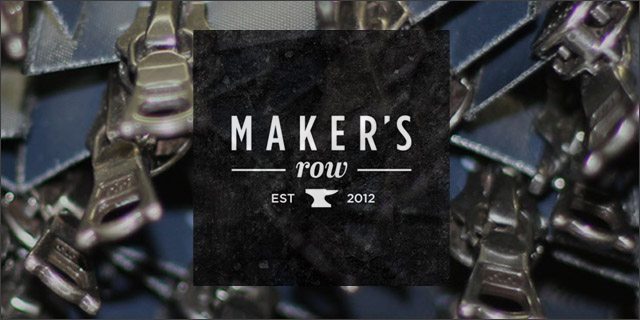 A big part of the crowdfunding narrative has been centered around the concept of concious capitalism and an increased awareness of the complex relationship between industry and society.
Through crowdfunding, backers and investors have an opportunity to vote with their wallets and reward those companies that consider more than just profits when setting up shop.
Our readers in the states know that "Made in the USA" has long been a mark of pride here in the US, and conversely its absence can be a point of contention. Offshoring has caused PR issues for various companies (see: Nike, Apple, etc) in the past.
New York startup Maker's Row has built a directory of United States factories to help clothing designers find the perfect factory to fulfill their needs and expectations. All listed factories specialize in clothing and textiles.
Of course, it should be no surprise that Maker's Row was born of the founders' own frustrations in trying to source quality manufacturing.
As co-founder Matthew Burnett explains in a recent Mashable piece, often times the quality of a test run from an overseas factory would be spot on, but the resulting mass production run's quality wouldn't match up to the prototypes.
Burnett and co-founder Tanya Menendez wondered why manufacturing was so difficult, and especially here in the states.
"It was such an outdated process to find an American manufacturer," Menendez explains. "We were literally going to trade shows and looking through print catalogs. Looking through print catalogs to find something feels so out of date, but all of the other product-based entrepreneurs we knew were doing it that way, too. The main way to find manufacturers was through word of mouth, these catalogs, or trade shows."
Crowdfunders should know that manufacturing here in the states can have a positive impact on the outcome of their campaigns. Does offshoring mean failure? Absolutely not. (Ask Pebble) However, companies like Flint & Tinder have found great success marketing themselves as a true "Made in the USA" product.

In short, if you have an idea for a fashion-related product and aren't sure where to go to find a factory, Maker's Row may be a good start.

Now, will someone do this for other industries?

Sponsored Links by DQ Promote