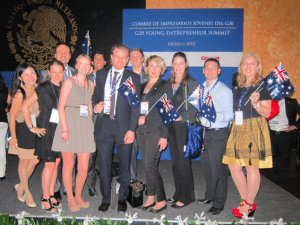 A group of 23 young Aussie entrepreneurs have launched a crowdfunding campaign to support their mission to get to the G20 Summit in Moscow in June.
Shot by local production company Sambo Media, the film makes the most of the Sydney Harbour backdrop and shows delegates who intend to go to the G20 Young Entrepreneurs' Alliance Summit.
The local entrepreneurs hope to raise awareness, as well as funds, through the crowd funding project.
Jeremy Liddle, Chief entrepreneurial officer of the Enterprise Network for Young Australians, said: "We are serious about making a difference to the economic and social future of our country. Of the 23 delegates going to Moscow, 10 are early-stage start-ups with tight budgets and in urgent need of support to get there.
Read More at BandT