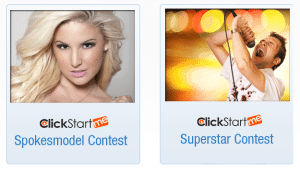 Seven models from around the country, including two Playboy Miss Social winners, will compete in the ClickStartMe Spokesmodel Finale on May 17, 2013 in a day-long competition that culminates with the winner being crowned on stage at performance-based nightclub The Act Las Vegas at The Palazzo resort. The event marks the end of a nationwide search by ClickStartMe.com, a site "puts the fun in crowdfunding" to find a spokesmodel for its popular crowdfunding website. The 2013 ClickStartMe Spokesmodel contest is also sponsored by OneModelPlace, the oldest and most respected online community for fashion and glamour models.

Seven model finalists were chosen from hundreds of contestants and will arrive at The Palazzo the morning of May 17, when the reality-show-like competition will begin. "The models will be put through a series of challenges that will allow us to see how well they will represent ClickStartMe, if they are chosen as our spokesmodel," ClickStartMe CEO Kendall Almerico says. "This is not just about looks and fashion, but also charisma, public speaking talent, charm and the ability to promote ClickStartMe in the best manner possible."
The competition comes to a head with the models on stage at performance-based nightclub, The Act around 11:00 p.m.. "What better place to see how models can engage a crowd than on a stage in front of hundreds," Almerico says. "After a day of challenges, it will be great to see how each model captivates the crowd while on The Act's grand stage."
The seven finalists in the May 17 ClickStartMe Spokesmodel Finale are:
Ashley Alexiss. Playboy Miss Social February 2011 and Playboy South Africa Girl Next Door 2012 who has several hundred thousand online fans and followers. Ashley successfully crowdfunded a project on ClickStartMe raising thousands of dollars for breast cancer research.

Benjamin Haukoos. Male model who has graced the covers of several magazines, and who raised $10,000 with his first crowdfunding project on ClickStartMe to support The Humane Society. Benjamin is presently crowdfunding a second project to start his own clothing line.

Kay Titanium Jewels. Well-known for her artful nude portfolios and her hundreds of thousands of online followers and social media friends on her four websites and social media pages, Kay T is in the process of crowdfunding a project to raise money for the Susan G. Komen Foundation in an effort to help eradicate breast cancer.

Keri Clodt. Las Vegas-based model who was selected by The Act from a large pool of local modeling talent to be a finalist in the contest. Best known for her work as a Hooters calendar model and for bikini runway modeling.

Laura Cole. Playboy Miss Social December 2012 who has appeared in numerous online and print publications and who is presently crowdfunding a project to raise funds for her career development.

Leyla Lee Chesser. Houston-based model who crowdfunded a project on ClickStartMe to raise funds for Houston Rescue and Restore, and organization whose mission is to help end sex trafficking of women, girls and young boys.

Worthy Goodman. Las Vegas-based model selected by OneModelPlace from hundreds of thousands of models to appear in the finale as the representative of the internet's oldest and most respected modeling site.
Sponsored Links by DQ Promote