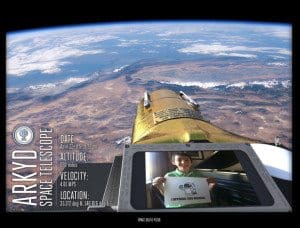 With 19 Days left on the counter, ARKYD – the Space Telescope for Everyone , is still shy of their initial $1 Million goal standing at over $850,000 raised by over 9500 supporters.  As part of their push to crowdfund the telescope, the campaign organizers have just announced stretch goals in attempt to push past the first Million dollar goal – and reach $2 Million.
This crowdfunding campaign quickly achieved success hitting over $325,000 on their first day of crowdfunding.  With a posting on their campaign page organizers stated:
That's right. We're totally doing it… IF we can hit our ultimate stretch goal of US$2 million, we'll be able to enhance ARKYD's stability systems and dedicate time to monitoring candidate star systems for transiting exoplanets.

With NASA's recent equipment failure on the Kepler telescope (RIP, Kepler!), our search for extrasolar planets nearly came to a grinding halt. If we can meet our stretch goal, we can resume some of this progress by enhancing the ARKYD. We're partnering with exoplanet researchers at MIT to equip citizen scientists like YOU with the tools to join a search that's captivated us for generations.

To help us get there, we're also announcing three additional stretch goals. If we raise $1.3 million, we'll build a second ground station at the site of an educational partner. This station will provide a 2x downlink boost, doubling download speeds from space. Two additional mystery goals will be revealed when we reach 11,000 and 15,000 backers! Believe us when we say: You'll want to see them.

We only have 19 more days to meet this goal. If you haven't already, please share this Kickstarter with friends, family, co-workers, random strangers, and help us enhance the ARKYD with Alien Planet Hunting technology.

Please tell us what you think about a mission to hunt for alien planets.
Peter H. Diamandis, M.D., Planetary Resources Co-Founder and Co-Chairman said,
"We're confident this campaign will exceed the original goal of US$1 million dollars. We're now focusing on enhancing the capabilities of the telescope and creating meaningful and epic crowd involvement." He continued, "We're a hardware and inspiration company, and we're thrilled to provide a new generation of space pioneers with the ability to take a hands-on approach to exploration."
The company is partnered with one of the world's leading exoplanet scientists, Sara Seager, Ph.D. of the Massachusetts Institute of Technology (MIT). Dr. Seager, Professor of Physics and Planetary Science at MIT stated,
"We're excited about this game-changing approach that could transform how we do science in the future.  It's not just about advanced technology in a small satellite, but a crowdfunded approach to space science that could be revolutionary. The enhanced version of the ARKYD telescope will be an important source of data for exoplanets that can only be obtained from space, above the blurring effects of Earth's turbulent atmosphere."
Have a crowdfunding offering you'd like to share? Submit an offering for consideration using our Submit a Tip form and we may share it on our site!