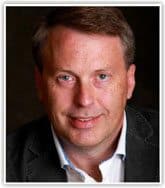 Dr. Richard Swart has been appointed as Director of Research overseeing the policies, best practices and innovation in entrepreneurial finance at the University of California, Berkeley. The Program for Innovation in Entrepreneurial and Social Finance, directed under the College of Engineering's Fung Institute, seeks to examine the evolution of crowdfunding and other social-finance models.
Dr. Swart is a well-known figure in crowdfunding circles. He is a founding member of the Crowdfunding Professional Association and the Crowdfund Intermediary Regulatory Advocates. He is also a partner and the Director of Research at Crowdfund Capital Advisors, the consulting firm headed by Sherwood Neiss and Jason Best. Neiss and Best co-founded the program at UC Berekely.
Swart holds a PhD in information systems from Utah State University and studied at the University of Utah and Stanford University. He has more than 20 years of experience extending throughout the fields of finance, entrepreneurship, education and government. Following the passage of the JOBS Act, Swart assisted administration officials to coordinate several educational events throughout the United States. He currently serves as a consultant for Goldman Sachs' 10,000 Small Businesses Program and is an active advisor or board member to several startup companies.
The full press release is available here.