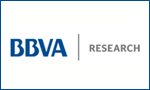 In a lengthy report published earlier today banking group BBVA address a wide range of financial industry challenges which included the disruptive innovation of debt and equity crowdfunding.
Stating the  "financial industry faces its most dramatic transformation in modern history because of increased online and mobile device usage, which will make banks more productive but also boost competition from nonbanks", BBVA Compass economists postulates that, "this transformation will result in a more efficient financial system that will be in a stronger position to support economic growth and wealth creation,".

"To succeed in this new hyperconnected and competitive environment, banks will have to follow a customer-centric approach and offer simple, user-friendly and effective products, with a high level of transparency and security," Chief Economist Nathaniel Karp wrote.

"Mobile banking will increase the productivity of the industry as banks will have more information and ways to efficiently target users; however, these technologies are also bringing more competitors: highly sophisticated platforms with innovative business models and very low operating costs," according to the economists.
In addressing crowdfunding specifically the report clearly declares this change is one the banking industry must not ignore.  Competition, change and displacement  is the future of traditional banking:
Crowdfunding is a disruptive innovation that commercial banks cannot ignore. Perhaps, for the first time in history, business and individuals have access to an unprecedented source of capital created from the small contributions of millions of individuals around the world. This is good news for individuals and entrepreneurs, who may never have to worry about not being able to access traditional lending sources or using more expensive funding solutions to finance their projects. It is also good news for small investors seeking a higher return than conventional investment products. For banks, crowdfunding poses a challenge. From here on, they will face a new competitor with lower operating costs, a different approach to risk management and a simpler product offering. To what extent crowdfunding platforms will displace commercial banks in the retail and small business segments remains to be seen. However, banks should be prepared for this trend and make it work to their advantage. 
BBVA is a  global financial services group founded in 1857. The Group has a solid position in Spain, is the largest financial institution in Mexico, and has leading franchises in South America and the Sunbelt region of the United States.

The entire report is embedded below:

[scribd id=151611362 key=key-1762yzmib0ubslapwno8 mode=scroll]

Sponsored Links by DQ Promote